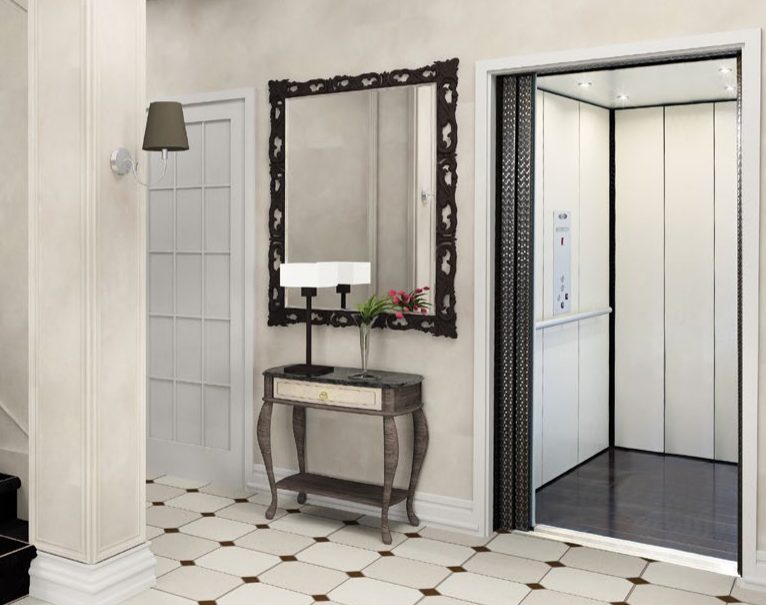 Savaria Gearless Home Elevator
When you choose the Savaria Gearless elevator, you appreciate the best. Our gearless traction system operates with extremely low noise levels. Whether you are riding the elevator, or in an adjacent room, the overall operation is whisper quiet. Dual traction, heavy gauge ropes and high density rubber guide rollers make for the ultimate smooth ride including a soft start and stop. A bi-directional overspeed governor and slack cable safety brake ensures reliable and safe operation.
A uni-body construction offers structural consistency for rails, the machine drive and other operational components. The compact design requires less overhead clearance and pit depth than other designs on the market. Finish your elevator in hardwood or veneer, or opt for decorator vinyl laminate.
Video Review
Product Features
Gearless traction system: Gearless electric motor with dual traction heavy gauge ropes for exceptionally smooth and amazingly quiet ride.
Uni-body rail system: Easier and faster installation that requires less overhead clearance and a pit depth of only 8".
Easy-access service panel: Service panel can be located inside or outside the hoistway making it accessible for maintenance.
Bi-directional overspeed governor: Ensures safe operation of the elevator and slack cable safety brake keeps cable tension uniform at all times for both up and down directions
Other standard features: Fully automatic operation, modular uni-body rail system, automatic cab on/off lighting, recessed gate pocket, digital display in cab operating panel, home landing feature.
Standard finishes: Unfinished MDF or melamine (see color chart), stainless steel, clear or bronze anodized aluminum cab operating panel and hall call stations, plywood floor, white ceiling.
Safety features: Cab gate safety switch, pit run/stop switch and car top run/stop switch, emergency stop and alarm buttons, upper and lower terminal limits, final limit switch, mechanical rail shoring blocks, adjustable sling, slack cable safety brake.
Warranty: 36 months parts. Please see complete details here. 
Technical Specifications
Applications: Residential, indoors
Standard Capacity: 750 lb (340 kg)
Maximum Travel Distance: 50′ (12.24 m), 60′ (18.29 m) where code permits with up to 6 stops and 2 openings
Nominal Speed: 40 ft/min (0.20 m/s)
Motor: 1 hp gearless electric motor
Minimum Pit: 8″ (152 mm), 11″ (279 mm) with buffer springs
Minimum Overhead Clearance: 108″ (2743 mm) for standard 80″ cab, 120″ (3048 mm) for 96″ cab
Power Supply: 230 volts, single phase, 60 Hz, 20 amps
Documents and Resources
Drawings
Gearless Elevator Drawings
The following are PDF and DWG files that can be downloaded and are intended for architectural use.