Outdoor Stair Lifts, and Platform Stair Lifts from Bruno Stair Lifts
in Cudahy, Madison, Waukesha, Wausau, Appleton, Milwaukee, WI, Roselle, Chicago, IL, Chicagoland and the Surrounding Areas
Regaining your mobility inside is essential but what about outside? Sometimes installing an outside stair lifts can be more essential than indoors. Even a single-story house can have outside steps to the driveway or landing. This may be the time when accidents happen the most – carrying items into the house, hard surfaces and potential risk from ice, snow, dampness, leaves and more.
At ACCESS, we've done all sorts of outdoor stair lift installations. We've even had applications of going up and down the patio or the steps down to the lake. There is no reason you should miss out on going to your back yard or the family activities you enjoy so much.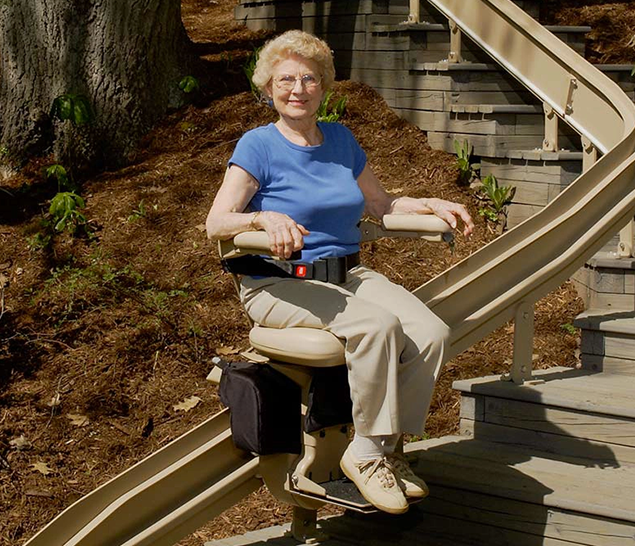 Outdoor Stair Lifts by Savaria Stair Lifts
Can I install outdoor stairlifts myself?
This is one project that must be installed for you. Almost all applications for outdoor stair lifts are different and customized. Also, the power required to main a constant charge will include outdoor wiring that should only be done by a professional. Don't worry, though, ACCESS Elevator has done many outdoor applications. We're Wisconsin natives and know how much the outdoor lifestyle means for you. We are fully trained for multiple stair lift applications.
What happens when it rains or snows?
Good question! Outdoor stair lifts are designed for harsh outdoor applications. Afterall, we're a Wisconsin-based company and must survive in any type of weather! Outdoor stair lifts are just as hearty as us. Specially designed tracks, hardware, motors and seats are standard for outdoor stair lifts. You will even receive a cover to put on your outdoor stair lift seat when not in use.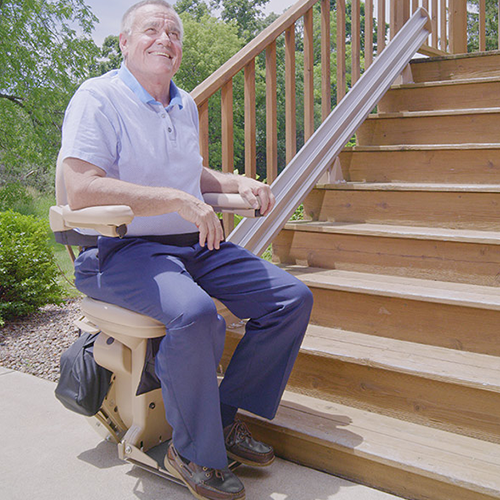 How much does an outdoor stairlift cost?
This is hard to answer but you can do a quick search online to get some rough pricing. Keep in mind options such as curved applications, heavy duty capacity and more may add to the cost. Overall though, our customers are normally surprised at the affordability. We do offer free estimates and inspections so there's no cost for us to come out and give you a detailed estimate. 
Gain back your mobility and peace of mind by exploring the options of an outdoor stair lift from ACCESS Elevator. ACCESS Elevator is an authorized dealer for some of the hardiest outdoor stair lifts including Bruno Stair lifts and Savaria Stair lifts (maker of Savaria Home Elevators). Whether you live Cudahy, Madison, Roselle, Waukesha, Wausau, and Appleton, ACCESS Elevator is here to serve your needs when it comes to outdoor accessibility. Just give us a call and we will be happy to provide a free, no-obligation estimate and a range of stair lift options for you to choose from.