Stair lifts and Chairlifts from ACCESS Elevator serving: Wisconsin, Illinois, and NW Indiana, including Appleton & the Fox Valley, Chicagoland, and Metro Milwaukee.
Stairlifts from ACCESS Elevator Can Be Installed For Temporary or Permanent Situations
Stairlifts can have a variety of features appropriate for your individual needs and budget. Whether due to aging, accident or illness trying to navigate even one or two steps when you're losing your mobility is often difficult; trying to climb an entire set of stairs can be next to impossible. Whether you live in Wisconsin, Illinois or  Indiana, Access Elevator is here to serve your needs when it comes to accessibility. Just give us a call and we will be happy to provide a free, no-obligation estimate and a range of stairlift options for you to choose from. Rental options are also available for short-term use.
Making your home more comfortable for family members can offer significant benefits for everyone living in your home. A few small additions can ensure greater independence and increased self-esteem for loved ones while providing assistance with everyday care needs. An Access stairlift from one of our premium stair lift vendors may just be the thing you need to remain in your home.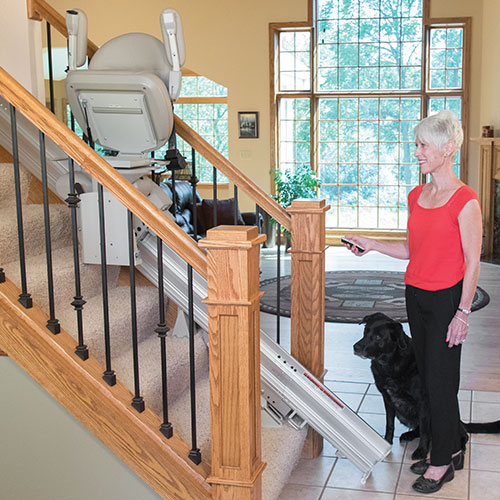 After Hours?
Is it after normal business hours when you are visiting our website? No problem use the convenient form at the top of this page and send us and email. We will call you back in the morning and schedule your free, in home estimate and there is never any obligation. Our friendly, professional in home Stairlift expert will go over all details and make the experience of buying an Access stairlift a pleasure.
Access Elevator offers you multiple options in stairlifts from premium Stairlift companies like Bruno, Savaria and Handicare
Heavy Duty Stair lifts from ACCESS Elevator Can Be Installed for Temporary or Permanent Situations
ACCESS Elevator provides numerous stair lift options including for accommodating larger passenger weights. Losing mobility is difficult for both the person affected as well as caregivers. Having the freedom to continue living in one's home as well as navigating floor levels is priceless. ACCESS Elevator services areas throughout Wisconsin, Illinois and Indiana with heavy duty stair lift options. One call and we'll be happy to provide a free, no-obligation estimate and a range of stairlift options for you to fit your individual needs and budget. If you need a heavy duty stair lift for a short period of time, we can discuss various options in heavy duty stair lift rentals. 
Heavy duty stair lifts incorporate numerous safety features that keep you or your loved ones safe. Initial feelings of losing control are immediately solved by your new stair lift becoming an everyday tool to increase freedom of movement and decrease dependence on caretakers. To ensure confidence and security, your new heavy duty stair lift for overweight and heavy passengers includes the following features:
Safety features – obstruction sensors, retractable seat belt and over speed governor
Easy on and off – swivel seats at top landing
Larger seats – added seat depth and wider seats with additional space between armrests
Compact design – larger armrests and seats fold against the wall for additional stair walkway space
Aesthetic design – heavy duty construction and design fits in with current interior aesthetics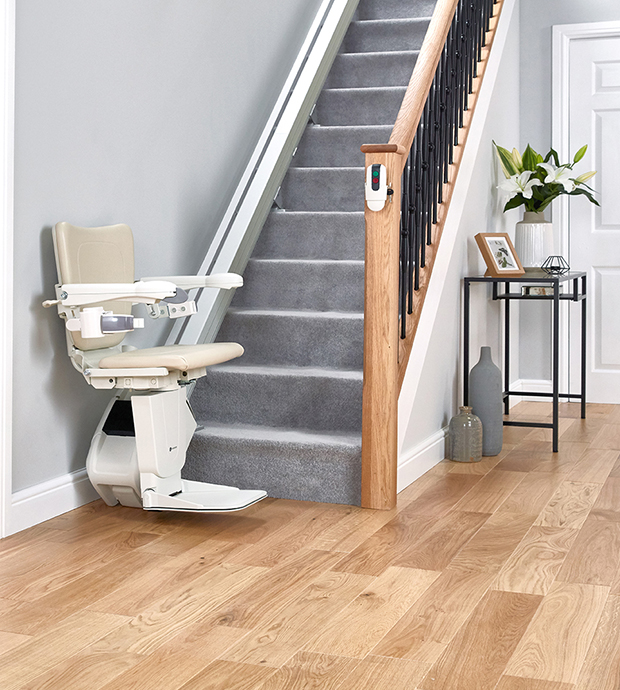 ACCESS Elevator carries the following models of heavy duty stair lifts:
Bruno Elite Curved Stair Lift –

400 Lb Lift Capacity (190kg) 5 Year Warranty

Bruno Elite Stair Lift SRE 2010 – 400 Lb Lift Capacity (190kg), Limited Lifetime Warranty
Savaria K2 Plus straight stairlift – 350 lb, 36 months parts warranty
Savaria Stairfriend stairlift – 350 lb, 36 months parts warranty
Other Heavy Duty stair lifts available: Other stairlifts that can accommodate up to 600 lbs are available on special request. Call ACCESS Elevator to learn about installing the perfect stairlift for you or your loved one.
ACCESS Elevator provides you with over 100 years of home accessibility experience and we are a preferred partner with all of our manufacturers. Our installers are Manufacturer Certified Technicians with years of experience installing heavy duty chair lifts. We firmly believe in providing home equipment that is the safest and most reliable available. We have a strong passion for the work we do and it shows in our end products. We believe pricing should be fair for the market and we strive to keep it that way. The better question is, why would I use anyone else?
Home and Vehicle Mobility

Stairlifts and Vertical Platform Lifts

Why Choose a Stairlift from Access?