Stair lifts and Chairlifts from ACCESS Elevator serving: Wisconsin, Illinois, and NW Indiana, including Appleton & the Fox Valley, Chicagoland, and Metro Milwaukee.
Stairlifts from ACCESS Elevator Can Be Installed For Temporary or Permanent Situations
Stairlifts can have a variety of features appropriate for your individual needs and budget.
Whether due to aging, accident or illness trying to navigate even one or two steps when you're losing your mobility is often difficult; trying to climb an entire set of stairs can be next to impossible.
Whether you live in Wisconsin, Illinois or  Indiana, Access Elevator is here to serve your needs when it comes to accessibility.
Just give us a call and we will be happy to provide a free, no-obligation estimate and a range of stairlift options for you to choose from. Rental options are also available for short-term use.
Making your home more comfortable for family members can offer significant benefits for everyone living in your home.
A few small additions can ensure greater independence and increased self-esteem for loved ones while providing assistance with everyday care needs.
An Access stairlift from one of our premium stair lift vendors may just be the thing you need to remain in your home.
After Hours?
Is it after normal business hours when you are visiting our website?
No problem use the convenient form at the top of this page and send us and email.
We will call you back in the morning and schedule your free, in home estimate and there is never any obligation.
Our friendly, professional in home Stairlift expert will go over all details and make the experience of buying an Access stairlift a pleasure.
Access Elevator offers you multiple options in stairlifts from premium Stairlift companies like Bruno and Savaria
"Thank you for the quick follow-up on my phone call today. Tony and I real appreciate the care you took in explaining the lift and being so personal with us. It warms my heart to know that there are folks, like you BRAD, helping those of us to fulfill living an aided life at home, I hope your company knows you are an asset. Blessings to you!"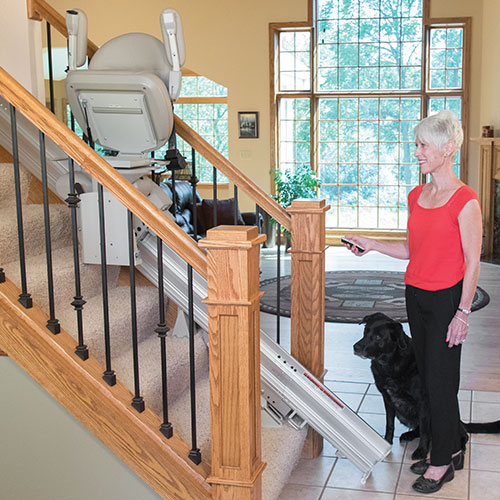 We Will Beat Any Local or National Competitor's Price!