Stair Lifts with Retractable Rails, From Bruno Stair Lifts and Savaria Stair Lifts
in Chicago, Roselle, Chicagoland, IL, Milwaukee, Cudahy, Madison, Waukesha, Wausau, Appleton, WI, and Nearby Areas
Many people have concerns about installing a curved, straight or outdoor stair lift. One thing is the price, and another is safety. We can tell you the price is more affordable than you think and stair lifts have more safety features than you think. In short, everyone has always told us they wish they had installed a stair lift sooner!
An ACCESS Elevator curved stair lift from one of our premium Stair lift vendors including Bruno Stair lifts and Savaria Stair lifts (maker of Savaria Home Elevators), can work with your unique application and keep you in your home. Whether you live Cudahy, Madison, Roselle, Waukesh, Wausau, and Appleton, ACCESS Elevator is here to serve your needs when it comes to accessibility. Just give us a call and we will be happy to provide a free, no-obligation estimate and a range of options for you to choose from.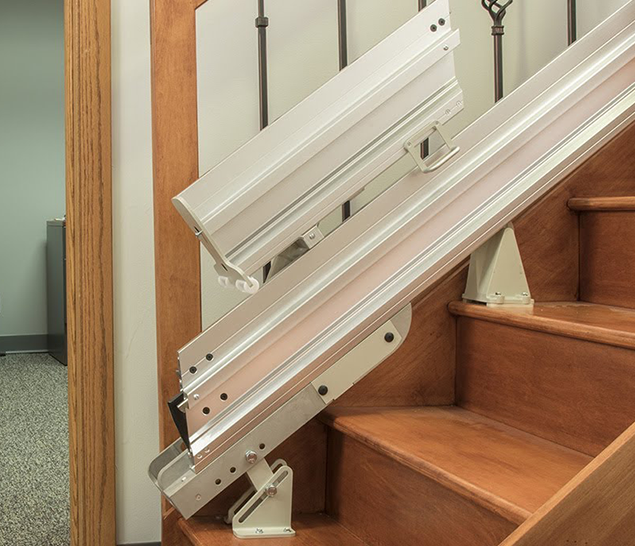 Retractable Rail Stairlifts from Bruno Stair Lifts
All stair lifts have safety features and one of our favorites are retractable rails. Retractable rails are at the very bottom of the end of the stair lift. For the chair to reach the bottom level, so a rider can safely exit the chair onto the floor as opposed to the first riser of the stairs, the rails must reach past the last step and onto the walk path of a hallway or landing. As one can imagine, this could pose a tripping hazard or obstruct the opening and closing of doors. The solution is for the end of rail to retract, so it lifts out of the way when not in use. Even better, the retractable rail raises and lowers automatically as the chair moves up and down from one floor level to another.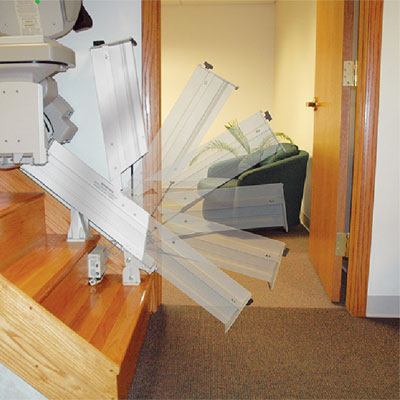 Stair Lifts by Savaria Stair Lifts
ACCESS Elevator is a certified installation company for all types of stair lifts including those with retractable rails. We have installed hundreds of stair lifts for customers throughout the Wisconsin and Northern Indiana and Illinois areas. And, while stair lifts do not require much maintenance, we do recommend calling us for any repairs you may need. We'll be happy to help you stay in your home for as long as you can.
At ACCESS Elevator, we have completed all types of applications because every house is unique. Retractable rails is another great addition to ensure safety of those with mobility issues. Of course, your final design and features depend on what you are looking for. We look forward to meeting you and helping you in your goal of remaining in your home.