Straight Stair Lifts, Outdoor Stair Lifts, and Stair Lifts
in Madison, Milwaukee, Waukesha, Wausau, Appleton, WI, Chicago, IL, and Surrounding Areas
Straight stair lifts are a more accessible option than you might think. Losing one's mobility does not mean moving to a new home. In fact, straight stair lifts are more affordable and possible than you may think. They are a much better option than moving or buying a new house at today's prices. Imagine having to pack all your belongings, move away from friends and neighbors or your garden. Instead, you could have a straight stair lift installed in your home quickly.
Straight stair lifts can change lives in terms of freedom but also convenience. Mobility is one issue, but so is carrying objects. Linens, laundry and even your dog can go up in the stair lift. Climbing stairs are dangerous enough, carrying objects that limit balance, stability and vision is even more difficult.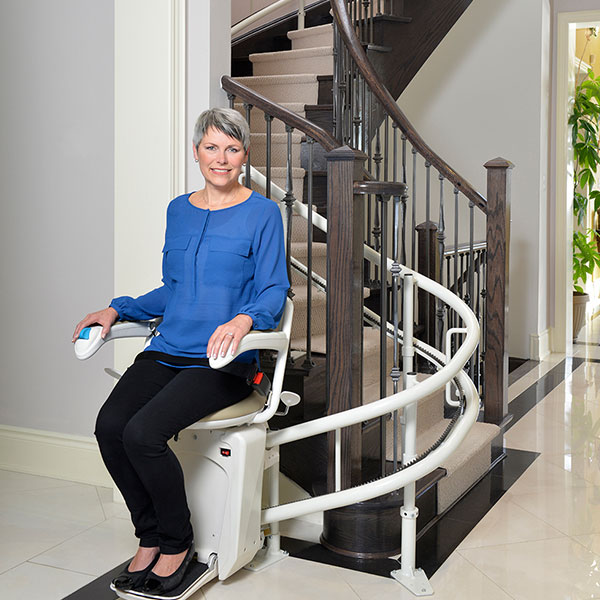 Best in Class Straight Stairlift
The Bruno Elite SRE-2010 is the best-in-class stairlift rated up to 400 lbs. capacity. The Elite offers worry-free access and a premium design that seamlessly blends into your home's environment. Consider options such as power swivel seat and power folding footrest to customize your Elite stair lift to match your unique situation. Bruno's products are made in Oconomowoc, Wisconsin and feature durable steel components and a lifetime warranty on the motor and gearbox and a limited 2-year warranty on all other parts.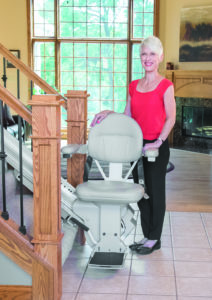 Stair Lifts offer Flexibility
The newest addition to the Bruno Stairlift line, the Elan SRE-3050 is a straight stairlift with features usually associated with top-of-the-line models. The Elan is a rugged, compact stairlift with superior performance and a contemporary design. Going up and down stairs will be effortless with the addition of an Elan!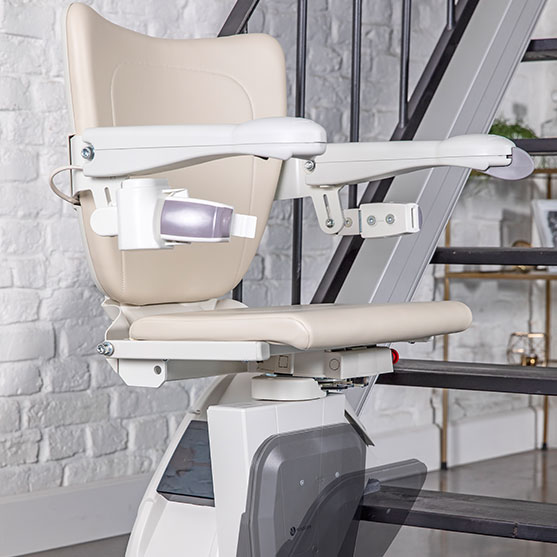 Stair Lifts offer Freedom
The Savaria K2 stairlift is your best choice for straight stairs in the home. With the smallest folded up the size on the market, it is out of the way when not in use, yet ready to carry up to 350 lb whenever you need it. For commercial applications, the Savaria SL-1000 stairlift can be installed for straight stairs to carry up to 350 lb. The Savaria K2 straight stairlift features the most compact folded depth on the market, keeping your stairs clear when the lift is not in use. Smooth-riding with a comfortable seat, the K2 stair lift transports you over the barrier of stairs, giving you the freedom to stay in the home you love.