Inclined Platform Lift, Wheelchair Lifts, and Platform Lifts
in Milwaukee, Cudahy, Madison, Roselle, Chicago, Waukesha, Wausau, Appleton, Wisconsin, Illinois, NW Indiana, and Surrounding Areas
Inclined Platform lifts can be thought of as a stair lift for a wheelchair. Both for public and private home use, inclined platforms can give mobility access to anyone that is limited to a wheelchair. If enclosed or containing passenger retaining arms, inclined platform lifts can accommodate a number of other mobility impaired individuals including those using scooters or powerchairs.
Inclined platforms have a number of benefits welcome to commercial applications, schools, churches and more. While benefits will differ between models, manufacturers and types, ACCESS Elevator can find the perfect one for your needs and budget. We can also install and service almost all inclined platform lifts.
Inclined platform lifts are ideal for grades of larger than 24". Ramps must have a 1"/12" ratio which makes them costly in terms of space once higher than 24". But, for inclines up to 14' or more, platform lifts are a great alternative to elevators, especially in terms of affordability and accessibility.
Whether you live Wisconsin, Illinois, or NW Indiana, ACCESS Elevator is here to serve your needs when it comes to accessibility for both home and commercial applications. Just give us a call and we will be happy to provide a free, no-obligation estimate and a range of inclined platform lift options for you to choose from.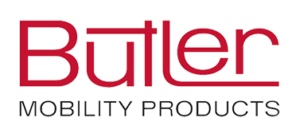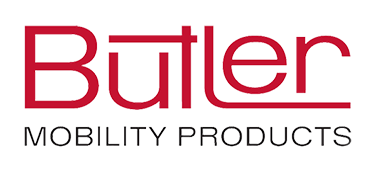 Platform Lifts and Inclined Platform Lifts
For some commercial applications and schools, ADA Compliance is a necessity. Make you sure the model you choose will fit your compliance issues or let ACCESS Elevator help guide you. Some inclined platform lifts must have certain weight, height and safety features to comply.
Wheelchair Lifts are Budget friendly
Price will differ from model to model and different sizes of course, but many options can be more affordable than other mobility assisted devices.
Installation applications
Many inclined platforms can be installed in existing stairways using the stair landings as support, not load-bearing walls. Once no longer needed, they can be uninstalled easily. 
Many models feature foldaway design and inconspicuous railings. Also, many different colors and finishes to match any building's aesthetics.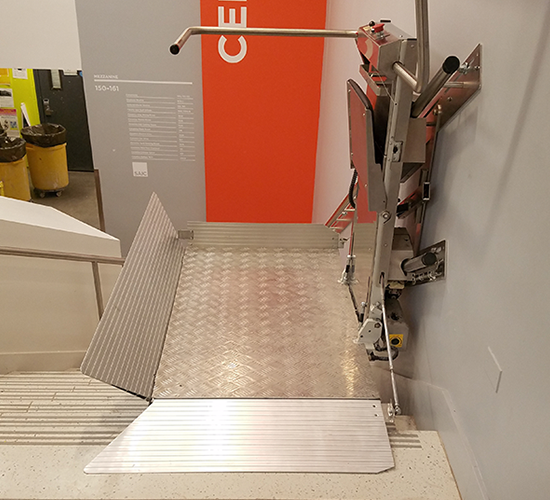 Virtually anywhere stairs can go, inclined platform lifts can go. Outside models, curved railings, around landings and more are all possible.
Some models go up to 750 pounds. Great for use with heavier devices such as scooters or power chairs.
You can have charging stations at the top, bottom or both. Most units keep a charge, even when power is out, for up to five trips.
Platform Lift Safety features
For security and piece of mind. Most models include sensors, non-skid platforms, side safety flaps, manual lowering device and emergency stop buttons.