Roselle-Chicago, IL
Location
Visit a Showroom Near You!
Visit Our Roselle Showroom
Featuring home elevators, LU/LA elevators, stairlifts, ceiling lifts, and more
Featured Accessibility Products Offered At This Location
At Access Elevator, we serve Roselle, Chicago, Schaumburg, IL, and the surrounding areas with a range of home mobility solutions including LULA elevators, Bruno stair lifts, ADA lifts, and more! Whether you're searching for yourself or your loved ones, we're here to ensure that you get the mobility technology you require at the price you deserve. Come visit our showroom in Roselle, IL today!
Home Elevators in Chicago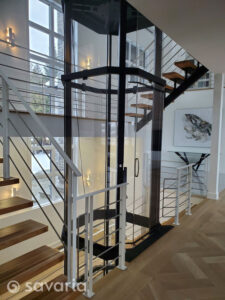 Are stairs a complicated challenge for your and/or your loved ones? If so, it might be time to look into home elevator technology for your home. Home elevator models, Savaria LULA elevators, not only increase the overall value of your home, but provide for convenient and safe transport up and down the multiple levels of your home. Our home elevator/LULA elevator options for Chicago and the surrounding areas include Savaria Eclipse Elevators and Savaria Vuelift Elevators.
Savaria Eclipse Elevator
The Eclipse Savaria home elevator model is a best-selling model that can travel distances of 50 feet or higher! With a weight capacity of just under 1k lbs, there's nothing this LULA elevator can't do.
Savaria Vuelift Elevator
Are you looking for beauty and function? This Savaria home elevator option has a sleek panoramic glass view with an integrative hoistway that fits nearly any architectural style.
Savaria Stair Lifts & Bruno Stair Lifts in Chicago
Bring the convenience of stair lift technology to your home with our Savaria stair lifts and Bruno stair lift models!
Savaria Stair Lifts
With options in straight and curved models, Savaria stair lifts combine power, mobility, and style for reliable indoor access.
Bruno Stair Lifts 
Bruno stair lifts, such as the Bruno Elan and Bruno Elite, are a versatile indoor stair lift option that's installed onto stair treads for easy removal.
ADA Lifts
Are you looking for ADA lifts for your business? Our ADA lift options include Surehands Ceiling Lifts and Savaria Ceiling Lifts to help you overcome mobility challenges with safe and smooth transport. Get in touch with us to chat with a home mobility technician about the right ADA lift option for your needs.
Access Elevator in Roselle, IL
As a prominent suburban area of Chicago, Roselle is a popular and diverse area. From parks, restaurants, shops, and more, there's something for everyone in Roselle–it's no wonder why homeowners choose to lay down roots in this vibrant suburb! At Access Elevator we are proud to service Roselle, IL, Chicago, Schaumburg, IL, and surrounding areas with quality home mobility technology. Come visit our showroom to see how our home mobility solutions can transform your life!
We Remove Barriers and
Advance Your Independence