Lift and Care Systems by Bruno from ACCESS Elevator serving: Wisconsin, Illinois and Indiana, and the Surrounding Areas of Madison, WI, Chicago, Roselle, IL, and Milwaukee, WI
Access Elevator, Inc. provides products and services that allow you to care for yourself or someone else, independently, in your home. Independence includes help with a transfer from bed to wheelchair, moving into and out of a bath, or toileting. We can provide the right product to fit your needs.
Our track systems can be customized to the unique configuration of your living environment. What's more the patient ceiling lifts systems help you avoid the use of heavy portable transfer units that can cause injury to the caregiver.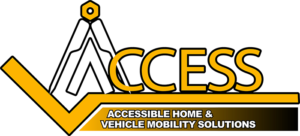 Accessible Home and Vehicle Mobility Specialists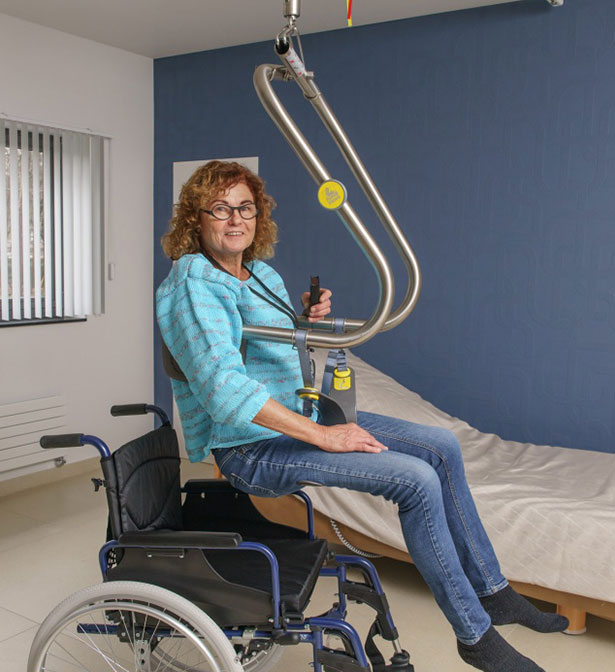 Into the bath with the SureHands® Body Support
The SureHands® Body Support is made from stainless steel and is rust resistant. It does not have any components that absorb moisture so it can be wiped dry and is easy to clean and disinfect. This makes it perfect for use in bathing and swimming.
Ergonomic lifting with no loss of space
Independent transfer possible with SureHands® Body Support
Accommodates conventional slings
Motor and rail systems make it possible to access all areas
Automatic stop at any desired spot
Sideways movement with adjustable speed
Wireless control optional
Back-up control on motor
Mechanical emergency down feature that can be enabled by the user
SureHands offers several solutions to put you on the toilet with the assistance of a caregiver with minimal effort. 
It is possible with all SureHands Lift & Care systems, e.g. the SureHands mobile lifters and wall lifts combined with a SureHands sling.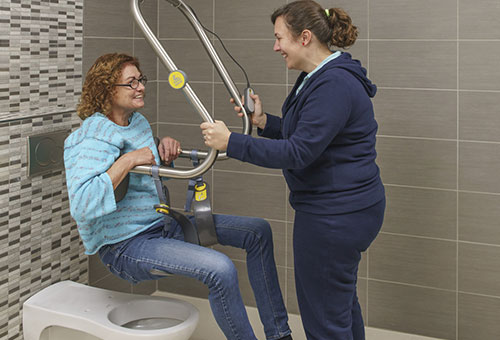 Surehands offers several solutions to help you in and out of the bath with the assistance of a caregiver – with minimal effort.
It is possible with all Surehands Lift & Care systems, e.g. the Surehands mobile lifters and wall lifts combined with a Surehands sling.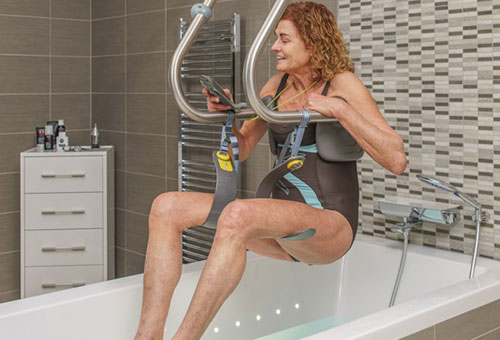 SureHands does not only offer the pool lift, but also a ceiling motor can be used as a pool lift. Ideal for intensive use and in pools where floor sockets cannot be installed. You are perfectly safe in the SureHands® Body Support.
With the Handi-Move pool lifts, you can easily move directly between you wheelchair and a swimming pool or therapy pool. This requires only one attendant and no physical exertion. There are two options here: a mobile pool lift or a ceiling motor with a rail system.
Horseback riding is a very popular therapy for many people. Getting on and off the horse is now very easy with the SureHands® body support and ceiling track system.
An ergonomic ceiling lift device is an overhead chair lift that is installed on tracks. The lateral motor drive operates with rechargeable batteries, and the continuous device can lift a person weighing up to 440 pounds from the ground or from a bed or chair.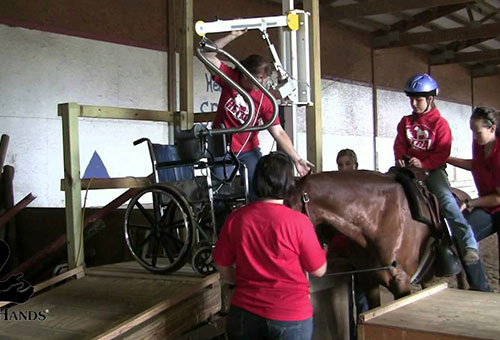 AllSureHands® systems will lower the user to the floor mats in the gymnasium.
Toileting and hygiene are the most common reasons for transferring students with disabilities in public and private school settings.
SureHands has great experience providing solutions for the tight bathroom spaces often found in schools.
Long Term Care Facilities
Transfers to and from the bed and to and from the bath/shower are the most popular in Long Term Care Facilities. Mobile lifters and stand assists are most commonly found in these environments because of their versatility. However, utilizing an overhead ceiling system may also be a good solution.
It is possible with all SureHands Lift & Care systems, e.g. the SureHands mobile lifters and wall lifts combined with a SureHands sling.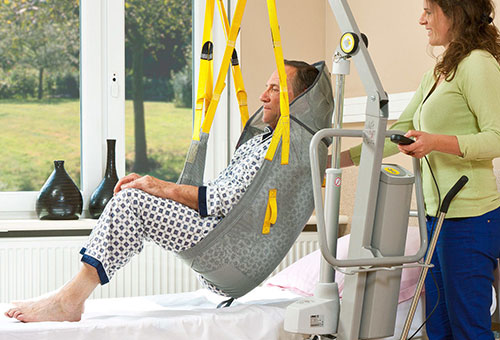 Five Proven Benefits of Ceiling-Mounted Patient Lifts for Patients and Families
The right patient lift solutions can provide added independence and increased mobility for disabled or elderly adults. Installing an overhead ceiling lift device can allow greater freedom of movement and can provide increased safety in navigating various areas of the home. Here are five of the most important benefits of ceiling lifts in the residential setting.
Highly Configurable – Ceiling patient lifts can be configured in a number of ways designed specifically to suit your needs. Because these innovative mobility assistance devices are installed directly into overhead tracks that can be adjusted to suit the most useful routes or to complement the layout of your home. Ceiling lifts can be used to simplify the process of getting into or out of chairs, beds and other furniture items throughout your home to help you and your family members manage everyday tasks more easily.
Reduced Risks for Caregivers – By taking much of the heavy lifting out of the caregiving process, ceiling lifts can reduce the chance of back strains or injuries incurred while assisting elderly or disabled patients with bathing, getting in and out of bed and performing other routine tasks. Ceiling lift installations can ease the physical burdens for family members, nurses and other caregivers while reducing the risk of accidents in the home.
Fewer Barriers and Easier Storage – 

Because ceiling lifts are stored overhead, they do not take up valuable floor space in bedrooms, baths and other rooms of your home. This can ensure clear pathways for other members of the family while allowing elderly or disabled individuals to move about more freely and in greater comfort. Keeping this equipment out of the way can also reduce the risk of tripping and falling that can occur when attempting to maneuver around floor-based patient lift models.

Increased Confidence – 

Ceiling lift devices can allow older individuals to manage more of their personal care. This increased independence can boost self-esteem and provide greater confidence in a wide range of situations. Additionally, by managing their own bathroom visits with help from a ceiling patient lift, disabled and elderly people can reduce accidents and improve their overall level of hygiene.

Increased Safety for Patients – 

In the hospital environment, ceiling lifts have been shown to reduce the incidence of injuries to patients during transfers and moves. By offering added support when moving among the various areas of your home, ceiling lifts can ensure greater safety for loved ones at home as well. Investing in overhead patient lift solutions can make almost any home more accessible and can help families with aging grandparents to manage their care more easily without the expense of live-in nursing or residence in an assisted-living facility. These innovative ceiling lift devices can help families stay together while ensuring the safety and well-being of patients and caregivers alike.
Call today to schedule your FREE in home, no obligation estimate
1-844-
WI-LIFTS

(945-4387) Wisconsin
1-844-
IL-LIFTS

(455-4387) Illinois