Best Stair Chairs and Elevators in Mequon, WI
Access Elevator sells and services Stair Chairs in and around Mequon Wisconsin. We specialize in all brands of Stairlifts such as Bruno, Stannah, Harmar, Sterling, Handicare, Acorn Stairlifts and more. Regardless of what brand you have or would like to have professionally installed in you most important asset, your home. The Stairchair pros at Access elevator can help.
Mequon a great place to visit, live, work and play in Wisconsin
Mequon contains more than two dozen parks and hundreds of acres of community parks and nature preserves operated by the city, and some operated by the county. The Ozaukee Interurban Trail runs for 5.85 miles south to north through the city. The Mequon-Thiensville Recreation Department conducts classes and programs for children and adults. Some of the great parks to visit include: Garrison's Glen: 22 acres. Neighborhood park on Pioneer Road near the Milwaukee River. Contains walking trail and canoe launch.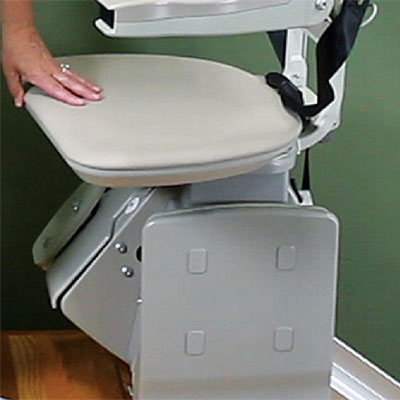 Grasslyn Nature Preserve: 15 acres. Nature preserve in the southeast of the city. Contains a walking trail and prairie area. Highland Woods: 85 acres. Nature preserve on Green Bay Road north of Thiensville. Contains a walking trail and forest. Katherine Kearney Carpenter Park: 35 acres. Dog walking park in southeastern Mequon. Contains walking trail. Lemke Park: 41 acres. Neighborhood park in southwestern Mequon. Contains playground, picnic tables, archery range, soccer fields, volleyball court, baseball diamond. Lilly Lane Nature Preserve: 12 acres. Nature preserve in southern Mequon. Contains walking trail.
Access Elevator is the Stairlift Specialists Company in Mequon
If you or someone in your family has mobility challenges at home, we can help. Whether you have a need for a Straight Stair Chair, Curved Stairlift or an Outdoor Stair climber we have them all ready for you to install quickly and safely.
A Great History in Mequon Wisconsin
The early settlers who came to the Mequon area in the 1830's were Yankees from New York state and English, followed by Germans and Irish. These new settlers found a very different place from the Mequon of today. The entire area was covered with dense forest. The Milwaukee River, which runs through Mequon, was fast flowing, with falls and rapids and underground water courses, offering never failing-fresh-water springs. The only type of road available through the area was the Green Bay Trail, which wound its way due north and was barely passable by the settler's wagons. The word "Mequon" is said to have come from an Indian word "Miguan" which means "ladle" because the river in Mequon was shaped like an Indian ladle.
During 1839, the first of the German settlers were Saxon-Germans from Saxony, who purchased a large tract of land along Wauwatosa Road. Then came the Pomeranian Germans, from the Prussian state of Pomerania, who bought more than 1,000 acres to the north and west of the Saxons.
That same year, 43 families, all members of a Lutheran congregation, came from Northern Germany and settled in the western part of Mequon. They named their tiny colony, Freistadt, loosely translated as "free city." These people came in search of religious freedom and held their initial church service that same year.
Best Mobility Products in Mequon
If you have Mobility challenges let us help you with a New Wheelchair van from our Access Mobility caravan company. Please check out our website at: www.accessmyride.com we can help get you to any of Mequon's favorite attractions safely and easily. We offer Wheelchair vans and Wheelchairs trucks as well. Come and test drive one today. We will remove barriers and advance your independence, it's our specialty!
Best Wheelchair Ramps in Mequon Wisconsin
Need a wheelchair ramp at home? We can help! Access Elevator offers professional sales and installation of Wheelchair ramps in Mequon and all surrounding areas. Give us a call today for a FREE no obligation estimate.
Contact Us Today To Discuss Your Free Mobility Assessment