Stairlifts have proven to be very helpful for thousands of people all over Milwaukee, Appleton, and the surrounding areas. Often when you start looking to add a stairlift to your home, you are thinking that it needs to only be in a straight line. But the truth is that if you only look at a straight stairlift, you might still have issues if you have a landing space that still requires a few steps to get to. Curved stairlifts are the solution to ensure that you have safety in your home for anyone that has difficulty navigating any kind of stairs. Access Elevator and their team can make mobility happen in your home.
Flat Rail Stair Lifts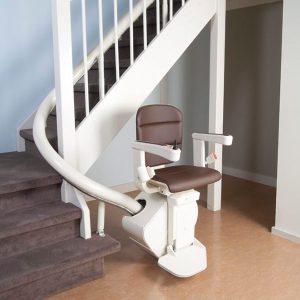 There are actually two flavors of flat rails that you have as options in this category: modular or custom. If you opt for the modular option for your curved stairlift, this option can carry slightly less than the hollow tube option discussed above. This is because the modules are typically made of aluminum and not steel, so they don't have as much carrying capacity. However, the nice thing about the modular option is that you don't need to wait for the manufacturer to make your guide rail, as the technician can start right away with fitting the modular system to your stairs. Using a modular flat rail also means that the stairlift will run slower than the hollow tube option because there are several more seams that the stairlift will encounter. If you opt for the custom flat rail system, it will take between two and four weeks for it to be fabricated for your Milwaukee or Appleton home.
Hollow Tube Rail Stair Lifts
For curved stairways, there are really two options when it comes to the guide rail that the stairlift would ride: hollow tube or flat rail. The hollow tube doesn't sound like it would be able to carry much weight, but it can. Hollow tube rail can carry up to 275 pounds, which is quite a lot and is sufficient for a wide number of installations. Hollow tube stairlifts tend to have a smooth and fast ride when compared to modular flat rails. It is important to note that the gears on some hollow tube stairlifts are at least partially exposed, so it's important to make sure that things do not hang too low from the seat. A custom hollow tube rail system for your stairlift will typically take between two and four weeks to be fabricated by the manufacturer before it is ready for installation.