Stairs are a reality of life for everyone, even if they are just a few steps to get from one level to another. For many people in Hinsdale, Chicagoland, McHenry, Springfield, Naperville, Frankfort, and the surrounding areas, even a few steps can be problematic. Instead of suffering and putting yourself in a position to get hurt, have a straight stairlift installed by our team at Access Elevator. Whether due to aging, accident, or illness trying to navigate even one or two steps when you're losing your mobility is often difficult; trying to climb an entire set of stairs can be next to impossible. Contact us today to learn more about straight stairlifts and have us come to your home to provide a quote.
Benefits of a Straight Stairlift for The Home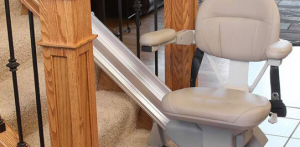 Of course, the most straightforward benefit of having a straight stairlift installed in your home is that it allows you to navigate the stairs again without the trouble you used to have going up or down. This means that you once again have the freedom to access all the different areas of your home, allowing you to stay in the home you know and love, often referred to as aging in place.
Have you considered that a straight stairlift might be good for more than just the aging? That's right, others can benefit from having a stairlift in their home. You may have a family member that is recovering from a surgery that cannot walk without crutches. Rather than attempt to hop up the stairs, sit and ride on the straight stairlift and avoid any potential problems.
Consider Renting a Straight Stairlift
Many times, we talk with people who aren't sure if a stairlift is the right answer for them. They wonder how often they will use it, and they don't really need to get upstairs or downstairs that often anyway. That's why we have the option for renting a stairlift which allows homeowners in Hinsdale, Chicagoland, McHenry, Springfield, Naperville, Frankfort, and the surrounding areas to try out having a stairlift in their homes. What usually happens is that they use it much more than they anticipated and find that it is really a useful addition to their home.
Whether you are looking at ways to age in place and remain in your home or need some assistance temporarily due to an accident or other issue, having a straight stairlift can make all the difference. Our team at Access Elevator will answer all your questions and provide you the important details you need to know. Contact us today to schedule our team to add a stairlift to your home.