When you are looking to add a stairlift to your McHenry, Dekalb, Frankfort, Gurnee, Schaumburg, Chicago, or surrounding area home, you want a well-known brand that will last for years once it has been installed in your home. One of the top brands is Savaria and our professional team at Access Elevator can provide all of the details and perform the installation. Whether you have a straight staircase or yours has a landing and a bend, Savaria has a stairlift that can fit your stairs. Contact Access Elevator today for your consultation with one of our technicians.
Indoor Stair Lift Options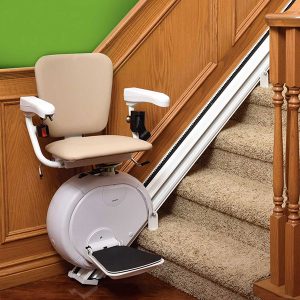 One of the main reasons that people want to have a Savaria indoor stairlift is to help with aging in place. This means that you will be able to stay in the house you love for longer without the fear of falls or other incidents on your stairs. Just think about how many times each day you would use your stairs, from going up to a bedroom to accessing storage or maybe you want it to go downstairs to your basement. Your indoor stairlift can be folded out of the way so that the stairs can be used normally by others. In some cases when you have a curved stairlift you are able to have it wrap around the base of the stairs or move off to the side at the top of the stairs to make getting on and off much easier.
Outdoor Stair Lifts
There are many cases where having a stairlift is just as important outdoors as it is indoors, and sometimes even more important. Living in a place where we experience four distinct seasons can mean that we have to deal with snow and ice. Stairs then become quite dangerous to navigate and having an outdoor stairlift can make a huge difference. Others have used their outdoor stairlift to make access easier going down to a dock on the water. Savaria has the right equipment to allow for outdoor stairlifts, and the technicians at Access Elevator have the expertise to properly install and wire the outdoor stairlifts for years of use.
Curved Stair Lifts
Whether indoor or outdoor, the odds are good that your stairs are not a straight shot up or down. Many stairs take a turn as they go to the next floor. When this is the case, you need to have a curved stairlift to be able to get up and down your stairs. Savaria's stairlifts can readily be adjusted to handle these changes in directions, and even incorporate multiple stops in a multi-level home. Join homeowners all over McHenry, Dekalb, Frankfort, Gurnee, Schaumburg, Chicago, and the surrounding areas by having our team from Access Elevator come to provide a free estimate on your Savaria stairlift.