When you have stairs in your Wausau, Chicago, Appleton, Oshkosh, Milwaukee, Sheboygan, or surrounding area home and you're in a wheelchair, those two things don't mix well. Unless that is, you have a wheelchair lift installed by the professionals at Access Elevator. Sometimes called platform lifts, wheelchair lifts can be installed in existing stairways to allow full access to all of your home. Contact us when you are looking to have an experienced team add a wheelchair lift to your home or building.
Great Option Beyond the Home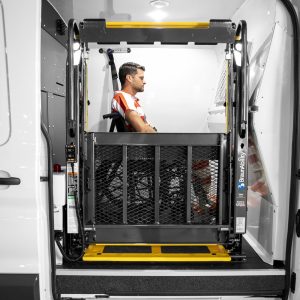 The truth is that wheelchair lifts are a welcome option in a wide variety of settings, not just at home. We have installed wheelchair lifts in places such as churches, schools, and other commercial applications. It dramatically improves the lives of those in a wheelchair who can now participate more fully in all that life has to offer us.
Wheelchair lifts are also a cost-effective alternative to installing an elevator when the distance traveled isn't that much. Our trained technicians can properly assess your property to determine how a wheelchair lift would work for your situation and can explain all of the details. We can provide a free estimate during this visit as well.
Our wheelchair lifts also feature a wide range of colors and finishes so that they will seamlessly blend in with your building's décor and style. Some even feature the ability to fold away when not in use, keeping things neat and orderly.
Features Available with Wheelchair Lifts
The great thing about wheelchair lifts is that for most stairways, a wheelchair lift can go in the same place. Beyond this is the fact that wheelchair lifts can handle a good amount of weight, which is important because some wheelchairs are quite heavy. In fact, some wheelchair lifts can carry up to 750 pounds. Additionally, most models feature a battery so that if the power ever goes out, you can still use the wheelchair lift a few times until the power is restored.
Other safety features include non-skid platforms, side flaps, manual lowering devices, emergency stop buttons, and other features. Our wheelchair lifts can be installed in both residential and commercial settings in Wausau, Chicago, Appleton, Oshkosh, Milwaukee, Sheboygan, or the surrounding areas. Contact Access Elevator today to learn more.