Home elevators were once only available in the mansions of wealthy people. But today, home elevators, especially those made by Savaria, are becoming quite common in homes of all kinds in the Milwaukee and Appleton areas. There are a number of reasons why you may want to have an elevator in your home. Perhaps the most obvious is if you are in a wheelchair, but even if you are temporarily injured, or if you would prefer using the elevator instead of the stairs, having a Savaria home elevator in your home is a welcome addition. When you think you want to have a home elevator added to your home, be sure to call the experts at Access Elevator to help you understand what options there are and what would work best for your situation.
Residential Home Elevators by Savaria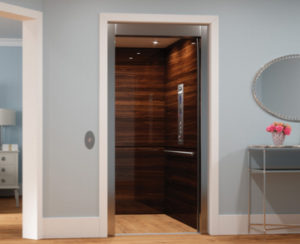 The Vuelift elevator features a glass elevator available in a round or octagonal setup. The sleek modern design matches nearly any décor and is available in custom colors with an integrated hoistway. Vuelift can be a featured piece in a room, or can also be located near corners for maximum space utilization.
For more traditional hoistway home elevators, you can review the Zenith, Infinity, and Eclipse models. The Zenith model features a machine roomless option, making installation easier with fewer modifications to your home. The Infinity model is a traditional hydraulic drive system, and it can serve up to six stops with a maximum travel of 50 feet. The Eclipse model is the most popular home elevator, features up to six stops, and offers a machine roomless option.
The Telecab models are the basic home elevator and do not require any machine room or other serious modifications to your home. This model serves two stops and easily runs through a hole between the two floors it services.
Home Elevators Offer Access
When you think of having a home elevator, there are typically only two scenarios that most people think of. The first is thinking of elderly people who want to remain at home while continuing to access all levels of their house. The second is for those who are handicapped, such as in a wheelchair. And while these are fairly common reasons to have a home elevator, there are other benefits that can often be overlooked, such as for visitors coming to stay with you. No matter the configuration of your Milwaukee or Appleton home, adding a Savaria home elevator makes your home much more accessible to everyone. Speak with your Access Elevator professional today to learn more about the options available and to have them come out to review your home and provide details.