For some properties, there just isn't enough room to have a full wheelchair ramp installed. They take up a lot of space, and when space is at a premium, you need other options. One of the best options is having a porch lift installed for your home. A porch lift is a cost-effective accessibility solution and provides easy access to porches and areas with steps or uneven elevations. Rather than move from the home you love because you can't get to the front door, install a porch lift from Access Elevator. They will make sure that you can love your house again.
Outdoor Porch Lift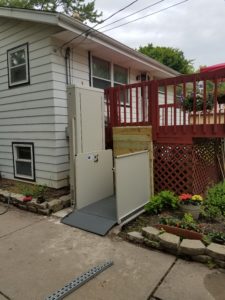 Making your home more accessible to disabled and elderly members of your family can provide a number of important benefits, including increased independence and enhanced self-confidence. Porch lifts are designed to withstand the harsh conditions that are found outdoors, yet still be efficient in allowing people to gain access to their home easily, whenever they want. From rain or sunshine to snow, sleet, and other weather conditions, the porch lifts installed by Access Elevator are always up for the job. No matter the configuration of the home, there are lift options available that do not require major modifications to the staircase or the structure of your deck or porch. These lifts have several benefits to them.
Benefits of Porch Lifts
It doesn't matter your age, having the availability of a porch lift means an increase in independence and mobility. It means that you can stay in the home that you are familiar with and enjoy, as well as being able to access aspects of your home both inside and outside. Porch elevator lifts and level pathways can even allow wheelchair-bound individuals to navigate their gardens and enjoy outdoor time on their own.
Porch lift installations can provide more secure footing and reduced fatigue for elderly individuals. Stairs can take a real toll on aging hips and may contribute to stress fractures and other common issues associated with excessive activity. Porch lifts can also increase a home's value. By investing in solid, durable lifts, ramps, and handrails, homeowners can make an investment that can pay off in increased interest and higher offers at the time of eventual sale. When you are ready to learn more details about installing a porch lift for your home or even your business, talk with the experts at Access Elevator. They have been helping provide mobility products for many years, and are ready to help you too.