Becoming compliant with the various ADA regulations for commercial buildings can present challenges. Fortunately, Access Elevator can provide you with a great solution in the form of vertical platform lifts for buildings and businesses in Mauston, Peoria, Oshkosh, LaCrosse, Chicago, Milwaukee, and the surrounding areas. These are not like traditional elevators in that they don't travel many floors, but instead provide a space-saving alternative to become compliant by providing a safe means of accommodating those individuals who have mobility issues. Contact our team today to learn more about adding a vertical platform lift to your facility.
Why Use a Vertical Platform Lift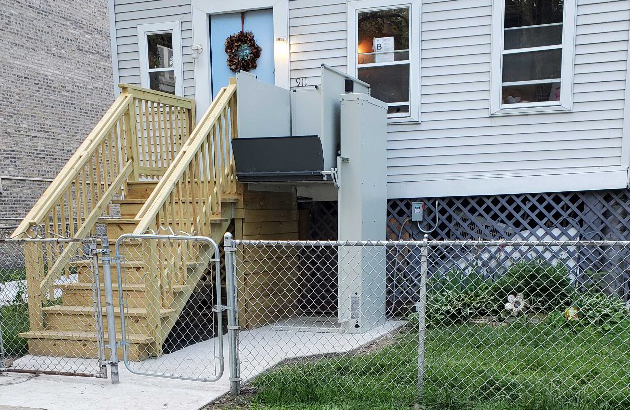 Many times facilities are looking for a cost-effective answer to become ADA compliant for their building. Ramps are a common, low-tech option, however they take up a lot of room. The higher the elevation change between the ground and the building entrance, the more space a ramp will take up. This isn't always feasible, and that's where an outdoor vertical platform lift can be a perfect solution.
Indoors presents the same problems, especially for space for a ramp. Your building may not be ideal for an elevator because of the cost and space required for a traditional hoistway. Our vertical platform lifts can be installed where it won't impact your building or traffic patterns. These are some of the best solutions available, and come in both enclosed and open options.
Will you be installing your vertical platform lift permanently or is this a temporary installation? How many floors does it need to travel? Will you limit this to passengers only or will you also use this to move objects like inventory? These are just some of the questions that we will work through with you in order to provide the best options for your vertical platform lift.
Platform Lifts Do Not Have To Be Eyesores
Our vertical platform lifts have not only a good amount of engineering to them, but they also have good looks as well. You can have a vertical platform lift that matches the décor of your building interior or exterior. Today's ADA platform lifts come in a variety of colors and also have a nice clean, finished look. When it comes to making sure that you are compliant with rules and regulations in Mauston, Peoria, Oshkosh, LaCrosse, Chicago, Milwaukee, and the surrounding areas, contact Access Elevator to learn about all of your options for vertical platform lifts.