In the world of accessibility and wheelchairs, there are a few options to choose from when looking to become ADA compliant in Appleton, Madison, Wausau, Milwaukee, Chicago, Waukesha, and the surrounding areas. One option that many locations are seriously looking at is platform lifts, and the team at Access Elevator can help provide details about these useful devices. Where stairlifts aren't always practical and elevators are too expensive, platform lifts provide a nice in-between option that doesn't take up as much space as other devices and isn't as costly either. Contact our experienced team to learn more and schedule a time for us to come out to your location.
Why a Platform Lift Versus Other Options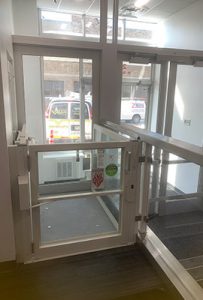 Platform lifts are sometimes confused for an odd-looking elevator, and while this is understandable, platform lifts are different from elevators. They usually have a protective cage around them but are not fully enclosed. They are controlled in the platform lift itself rather than requiring another person to operate them. They can also be installed indoors or outdoors.
When comparing a platform lift against other options, they make a lot of sense to use. For example, installing an elevator in a building, even a LU/LA elevator, is much more expensive than installing a platform lift. Additionally, elevators require more space above and below the operating range, whereas a platform lift does not. A stairlift often moves slowly and can cause lines to form at staircases until the user is done with the stairlift. A platform lift doesn't have this happen as it keeps the stairs free.
Platform lifts also can be temporary installations, whereas an elevator is not a temporary installation. Platform lifts also can be large enough to accommodate people who are on scooters or powerchairs, and this is still cost-effective compared with installing an elevator, and stairlifts aren't meant to handle anything other than a person.
Increasing Interest in Platform Lifts
Because of the flexibility in locating platform lifts, the cost-effective nature of them compared to traditional and LU/LA elevators, the fact that they keep staircases free, and can accommodate a variety of regular and powered wheelchairs while allowing them to operate the platform lift themselves makes these ADA devices more and more interesting to a variety of organizations in Appleton, Madison, Wausau, Milwaukee, Chicago, Waukesha, and the surrounding areas. Whether you are just starting the process of finding the right ADA device for your building or organization or you have decided that a platform lift is the right option, call Access Elevator and we will provide you with all the details you need and the options available.