Stairlifts are wonderful tools of engineering that allow people to continue to remain in their DeKalb, Chicagoland, Frankfort, McHenry, Bloomington, Hinsdale, or surrounding area homes instead of having to move. Curved stairlifts made this option to remain at home even more available, and the team at Access Elevator has installed thousands of curved stairlifts over the years. If you love the home you are in then you owe it to yourself to make the call to us and find out how we can add a stairlift to your home to make it safer to use your stairs.
Curved Stair Lifts Are Crafted for Each Application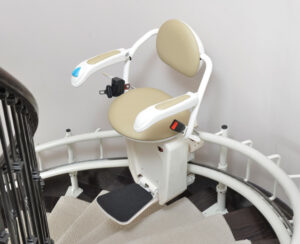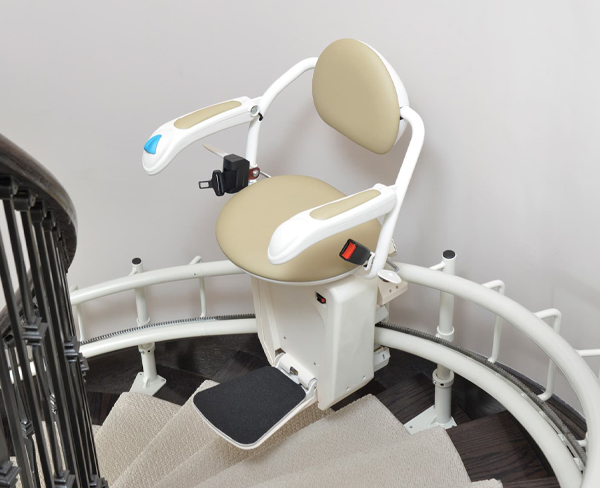 The curved stairlift that will go into your home will not be like any other curved stairlift. This is because of the variety in homes and what your particular staircase is like. We will custom design the rail on your curved stairlift so that it conforms to your stairs. These curved stair lifts can even be installed on spiral staircases! With custom installations of curved stair lifts, you will benefit from having corners being made tight, landings that are done properly, and the whole stair lift being properly fit for your home stairs. Having a curved stair lift provides for the utmost safety for the user because there is no need to switch between multiple straight stair lifts, nor will you be left stranded with a couple of stairs left to navigate without a stair lift.
Features and Benefits of Curved Stairlifts
When you opt for a curved stairlift you will have a number of features that come along with it. Of course, you will have the custom rail made just for your curved staircase. Your stairlift will also have a battery backup so that you can use it at least a few times when the power is out so that you aren't trapped on an upper level of your home. The chair of the stairlift also folds up so that the stairs can still be used in the normal fashion.
The ability to access your entire house safely cannot be understated. It provides you with freedom again rather than feeling confined to only a portion of your home or feeling that you need to move to a home or facility that doesn't have stairs. Thousands of satisfied customers in DeKalb, Chicagoland, Frankfort, McHenry, Bloomington, Hinsdale, and the surrounding areas have learned how powerful curved stairlifts can be. Contact Access Elevator today to learn more and have one of our team come to your home to provide details of how our curved stairlifts will work in your home.