Home elevators were once only available in the mansions of wealthy people. But today, home elevators are becoming quite common in homes of all kinds in the Milwaukee and Appleton areas. One of the main reasons why this is happening is because the homeowners are finding utilizing stairs either difficult or impossible. From people who are in a wheelchair to others using mobility devices to help them get around can all benefit from a home elevator in their home. When you think you want to have a home elevator added to your home, be sure to call the experts at Access Elevator to help you understand what options there are and what would work best for your situation.
Home Elevators Offer Access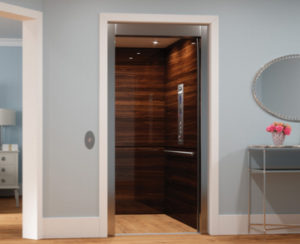 Home elevators provide access for people in their homes. When you are in a wheelchair, using stairs just isn't an option anymore. How do you get to the other floors of your home when you are in a wheelchair? A home elevator returns the freedom to go between floors and utilize all areas of the home, rather than being confined to a single floor. This is also true for those using other mobility devices, such as crutches, a kneeling brace, or other equipment. Beyond this obvious use for people, a home elevator can also help with moving things between floors. Furniture, clothing, gifts, and more can be moved upstairs or downstairs easily by using a home elevator.
Benefits of Adding A Home Elevator
Home elevators also provide a number of benefits to the homeowner. One of the interesting benefits is that home elevators take up less of a footprint than a standard stairwell. This means that you don't have to give up a lot of space in your home in order to have the home elevator installed. Another benefit that families really enjoy is that the homeowner is able to age in place, rather than being forced to leave the home that they love to live elsewhere. As different enhancements and upgrades happen to the home, consider adding an elevator as well to allow for this aging in place to happen as the years go by.
Having a home elevator can also increase a home's value. This means that when the time comes to sell the home for whatever reason, you can expect to be able to sell the home for more than if it didn't have a home elevator. When you are ready to add a home elevator to your Milwaukee or Appleton home, give a call to Access Elevator for all of the details.