What do you think of when you hear the words stair lift? For many, they picture an elderly person using a moving chair on their stairs to go from one floor to another. And while this can be true, there are many other situations that could benefit from having a stair lift in the home. You might need to have a stair lift in your Milwaukee or Appleton home installed permanently, or you may only need to rent a stair lift for a period of time. Access Elevator has the best stair lifts available from manufacturers such as Bruno, Handicare, and Savaria, and whether you need a basic straight stairway stair lift or have a multi landing or curved stairway, they have the right option for your needs. Give Access Elevator a call to learn what is available for you and to have one of their experienced team members come out to your home for an evaluation.
What Are the Benefits Of A Stair Lift?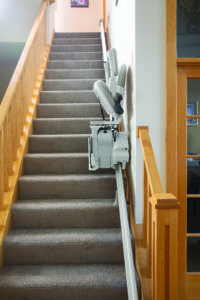 Having a stair lift installed in your home really means freedom. It means freedom to continue to live at the place you most enjoy. It means freedom to use your home as you desire. It means freedom from being limited while you recover. Not only does it equal freedom to those who use the home, it means that the possibility of injury from using the stairs is greatly reduced. It also means that other family members can rest easier knowing that their loved one is safer using their stair lift instead of the stairs.
The stair lifts that Access Elevator offers have a number of safety features themselves. They can operate several times when the power goes out, so people are not trapped in a portion of their home. Many models can be folded up against the wall so that the stairs can still be used by others normally. A swiveling seat allows for easier standing and sitting at the top of the stairway. Several models also feature a folding rail at the bottom to help prevent accidents from those walking past the stair lift.
Don't Ignore Troubles with Stairs
We don't like to admit that we might need help with something, but issues navigating the stairs in your home can cause serious injuries. The stair lifts from Access Elevator are designed to allow you the freedom to continue living in the home you love while providing a safe way to use your stairs. Access Elevator can help show you how adding a stair lift to your Milwaukee or Appleton home can make a world of difference.