More and more, we are seeing changes happening in the way houses are constructed and remodeled in DeKalb, Naperville, Schaumburg, Racine, Glenview, Chicago, and the surrounding areas. One of the things that we are seeing is that home elevators are being looked at more frequently by all kinds of homeowners, and we at Access Elevator think this is a great change. Having a home elevator installed in a new home or a remodeled home provides a host of benefits beyond just being a mobility aid for those who either can't climb stairs, or find them to be hazardous. Talk with our team today to learn more about adding a home elevator to your house.
Why Add a Home Elevator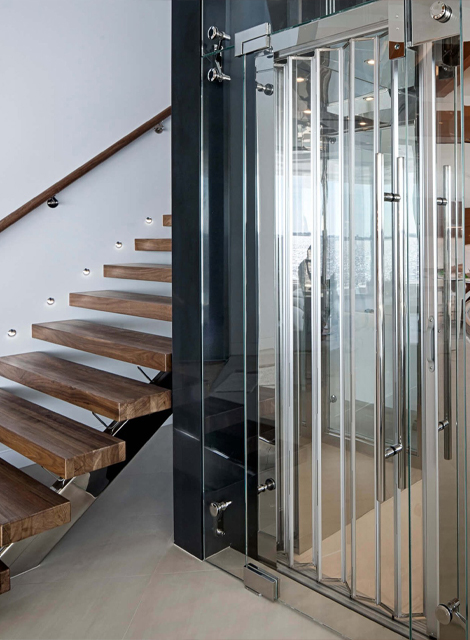 When the subject of adding a home elevator to your home comes up, you are likely to ask why. One of the most important reasons is the concept of aging in place. This is where elderly people end up staying in their own home instead of relocating to an assisted living facility or other family member's home. More and more seniors are preferring to remain in the home that they have lived in for many years rather than learn a whole new layout, be in the way of other family members, etc.
When a home elevator is installed by our team, you will likely see an increase in the value of the home. Because home elevators can be used by anyone, and they are not just limited to those who have mobility issues. Home elevators can also be used to move items between floors easier than using the stairs. They are becoming more popular to add to new construction as well to future-proof a home when the owners may want an alternative to stairs.
Why a Home Elevator Versus Stairlift
We get this question a lot and it is a good one. There are things that a home elevator can do that a stairlift just can't do. For example, if you are in a wheelchair, it can be a challenge to get from the wheelchair to the stairlift. And then once you are on the other floor with a stairlift, do you have another wheelchair waiting for you? A home elevator will take the wheelchair and rider all at once. A stairlift will also not be very useful in transporting things, unlike a home elevator that can readily do this.
While they might seem like an expensive addition, home elevators quickly become a useful aspect of your home that will make many tasks easier. At Access Elevator, we have a number of different models from different manufacturers so that you can get the right configuration and finish to best suit your home in DeKalb, Naperville, Schaumburg, Racine, Glenview, Chicago, and the surrounding areas. Contact us today to start learning about the different options to add a home elevator to your home.