Wheelchair Ramps in Chicago, IL
When you are in need of a wheelchair ramp in Chicago or the surrounding areas, Access Elevator is your go-to installation professionals. Access Elevator represents and installs wheelchair ramps Chicago residents love, including EZ Access, National Ramp, and PVI Prairie View Industries. Wheelchair ramps provide reliability born of simplicity. A wheelchair ramp creates safe and easy entries/exits that will assist you and your family with getting in and out of the house. A low-cost alternative to vertical platform lifts, ramps can be the perfect accessibility solution in residential, commercial, recreational, and industrial settings.
Homeowners and businesses alike can benefit from having Access Elevator professionally install a wheelchair ramp. We will work with you to find the best solution that includes the size of your property, building size and cost. No matter your needs, Access Elevator has a stair lift perfect for you.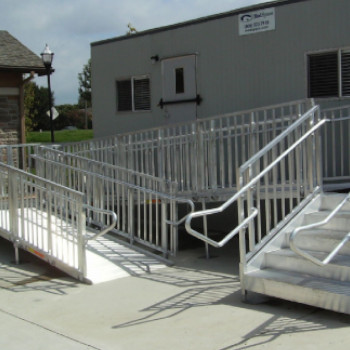 ACCESS Elevator is Chicago's Trusted Wheelchair Ramp Installer
When it comes to installations of wheelchair ramps, Chicago turns to Access Elevator for worry-free and hassle-free installations. Representing the top three wheelchair ramp brands provides customers with a wide range of options and prices to fit all applications. And there are several benefits to adding a wheelchair ramp to your home or business. Improved mobility is an obvious benefit, as it allows easier access for everyone. There are several different materials that a wheelchair ramp can be made of, and this can make your wheelchair ramp nearly maintenance free. Configuration of your wheelchair ramp is also very flexible, and Access Elevator can work with your property and building layout to develop a wheelchair ramp that works. Remember that these wheelchair ramps aren't just for those in wheelchairs, but can be used by everyone.
Wheelchair Ramps for Chicagoland Businesses and Homeowners
Chicago is the third largest city in America with a population of more than 2.7 million people. While not well-known for it's skyscrapers, it was the first American city to build one in 1885. Today Chicago boast dozens of skyscrapers that make it's skyline unique. Chicago was also where time zones were first developed and standardized in 1883 for the country. This happened because Chicago had become the nation's railway hub, being located near the center of the country. In the 1920's Chicago was home to several gangsters, perhaps the most famous being Al Capone. Chicago saw the St. Valentine's Day Massacre in 1929 when Al Capone sent members of his gang to gun down those of a rival gang.
Contact Us Today To Discuss Your Free Mobility Assessment