One of the most popular brands of stairlifts in Milwaukee and Appleton homes is Savaria, and Access Elevator technicians are well-versed with installing them on both straight and curved stairways. This also includes installing them both indoors as well as outdoors. They are designed to be reliable, even for use outdoors, and provide years to trouble-free use. And while you might think that they are only for elderly people, there are many other people who can also benefit from the use of a stairlift, including those recovering from an accident or surgery.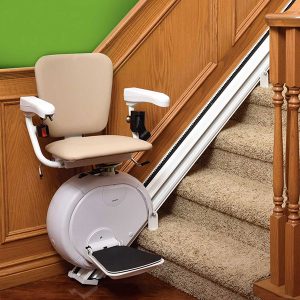 Indoor Stair Lifts
Having a Savaria indoor stairlift is the most common setup that people see and use. This is because the indoor stairways are used much more often on any given day than are the stairs outside the home. Many times, bedrooms are located on an upper level, so the stairlift is used several times a day just to get to and back from the bedroom. And if you have storage upstairs, or even more common in the basement, being able to use a stairlift to assist with bringing items from one floor to another can be life changing. The same can be said for laundry if you are unable to have a laundry area on the main floor. Savaria straight stairlifts feature the ability to fold up against the wall and have a narrow profile, allowing the stairs to still be used in the conventional way by other people.
Outdoor Stair Lifts
You may be surprised to learn that stairlifts can also be installed outdoors. You may have a ranch house where everything is on a single level, but you still may have stairs to get into your home. Or, you might have a long set of stairs that go down to your dock and are difficult to navigate. Having a stairlift to get you into your house or to allow you to access your dock and boat is a huge positive change in your mobility and access. Savaria has the right equipment to allow for outdoor stairlifts, and the technicians at Access Elevator have the expertise to professionally install and wire the outdoor stairlifts for years of use.
Curved Stair Lifts
So many people think that only straight stairs are candidates for a stairlift, but that just isn't the case. Whether you have a curved stairway inside or outside your Milwaukee and Appleton home, it is possible to install a curved stairlift without reconfiguring your stairway. Call Access Elevator today to have an evaluation scheduled for your stairlift.