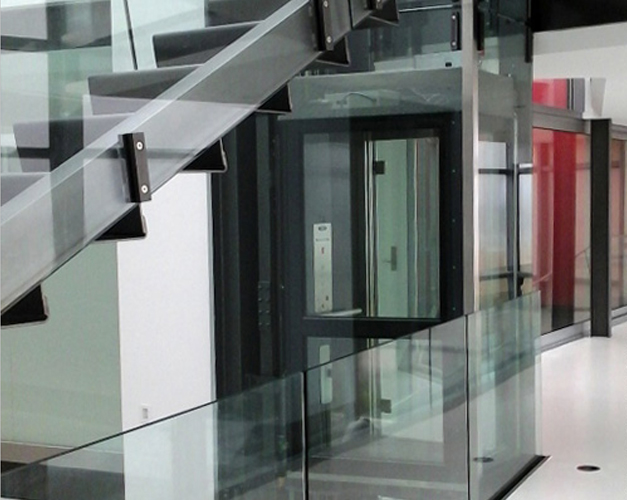 The Orion elevator from ACCESS Elevator is designed with features you would expect in a high-rise elevator but built for commercial low-rise buildings. The Savaria Orion elevator was designed for limited use/limited application (LU/LA) commercial projects and is well-suited for use in educational settings, places of worship and up to 3-story professional offices.
With the features you would expect to see in a high-rise elevator such as automatic sliding doors and commercial fixtures, the Orion elevator delivers a professional appearance and a smooth ride for passengers. The Orion is a cost-effective solution to ADA-compliant accessibility that meets state and national codes for LU/LA elevators. Upgrades for the Orion include stainless steel two-speed doors to deliver a modern and sleek look.
Video Review
Product Features
High-rise style, built for low-rise applications: Affordable elevator for low-rise buildings with 1400 lb capacity and automatic door option.
Aesthetically appealing: Attractive call station, control panel and digital floor indicators.
High efficiency hydraulic drive system: Smooth ride, start and stop.
Variable speed pressure valve: Gradual acceleration and deceleration of cab.
Other standard features: Fully automatic operation, modular rail construction for easy construction, automatic cab on/off interior lighting, digital display in car operating panel, white ceiling with 4 pot lights, steel interior in choice of laminate colors.
Standard finishes: Standard architectural white or black steel, stainless steel car operating panel, handrail and silver color trimmed light fixtures.
Safety features: Emergency battery back-up for lowering and interior lighting, emergency stop and alarm buttons, emergency manual lowering, safety brakes, floor specific battery lowering, negative pressure valve.
Warranty: 36 months parts. Please see complete details here.
Technical Specifications
Applications:  Commercial (LU/LA), residential, indoors
Standard Capacity: 1400 lb (635 kg)
Maximum Travel: 300″ (7.6 m), with up to 6 stops (subject to local code requirements) 
Nominal Speed: 30 ft/min (0.15 m/s)
Drive/Motor: 1:2 cable hydraulic drive, 5 hp submersed motor 
Minimum Pit: 14″ (355 mm)
Minimum Overhead Clearance: 108″ (2743 mm)
Power Supply: 208 volt, three phase, 60 Hz, 30 amps or 240 volt, single phase, 40 amps, 60 Hz
Documents and Resources
Drawings
Orion LU/LA Elevator Drawings
The following are PDF and DWG files that can be downloaded and are intended for architectural use.