LU/LA Elevators For Commercial Use
In Chicago, Roselle, Madison, Milwaukee, Appleton, Waukesha, and Surrounding Areas
LU/LA Elevator Sales, Installation and Service
For more than 20 years, many customers have looked to Access Elevator, Inc. to provide innovative accessibility solutions. Our vast experience in the accessibility industry has resulted in the installation and service of an outstanding line of high quality products. Limited Use/Limited Application (LU/LA) elevators are designed to provide access into or within public buildings. They can travel inside a complete, self-contained enclosure or can be located in a shaft way constructed by others. They offer an exceptional fit and finish, full code compliance, rugged components, quiet, reliable operation, excellent durability and superior appearance.
ACCESS Elevator proudly offers LULA Elevators from Savaria
Four Primary Benefits of LU/LA Elevators for Businesses
Elevator lifts can provide added help for senior citizens and disabled people in managing everyday tasks. In some cases, however, limited space or budgets may make other solutions more practical for business enterprises. The limited use/limited application (LU/LA) elevator is one of the most innovative and space-saving mobility solutions developed in recent years. These hybrid systems combine the best features of a full-sized elevator with the smaller profile of a lift to allow easy access to top stories of all areas of low-rise public buildings and retail establishments. Here are some of the primary benefits of LU/LA elevator lifts in the modern marketplace.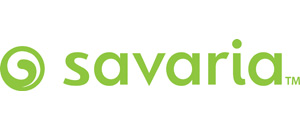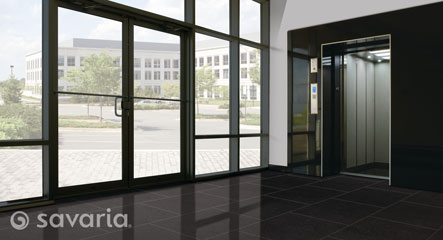 The Savaria Orion elevator provides accessibility in commercial applications under the Limited Use/Limited Application code. Well-suited for schools, places of worship and other public buildings for up to three stories, the Orion is an industry mainstay. The fully automatic operation with two-speed sliding doors can service up to 6 stops and can be configured to meet ADA guidelines. Less costly than a full passenger elevator, with space-saving construction requirements, the Savaria Orion is a value-packed choice.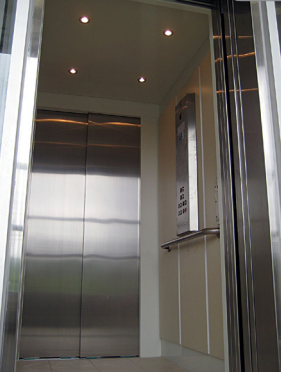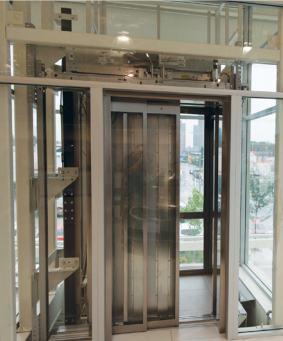 1:2 cable hydraulic drive system with gradual acceleration and deceleration, makes for a smooth ride
Quiet operation from submersed pump and motor • Pit depth of 14″ (355 mm) and minimum overhead of 108″ (2743 mm) is easier to accommodate than standard commercial elevators
Rated for up to 1400 lb (635 kg), with spacious cabs available
Fire-rated steel panel cab interior in choice of white or black with optional laminate panel overlays available. Full stainless steel cab also available
Stainless steel fixtures with illuminated indicators for the cab operating panel and hall call stations, automatic cab on/off lighting
Safety features include: emergency battery back-up for lowering and interior lighting, emergency stop and alarm buttons, emergency manual lowering, safety brakes
Standard two-stop operation can be increased to 6 stops over a maximum of 300″ (higher travel available where code permits)
Configurable for one door or two doors with straight-through access for ADA-compliant projects
Options include: steel panels with choice of melamine or plastic laminate in a variety of colors, brass fixtures, 90˚ door configurations, hands-free phone, stainless steel telephone cabinet, fire recall service, overspeed governor or valve, two-speed steel doors in black, architectural white or stainless steel
Applications:  Commercial LU/LA applications, residential
Capacity: 1400 lb (635 kg)
Maximum travel distance: 300″ (7620 mm), with up to 6 stops*
Cab sizes available:  48″ x 54″, 42″ x 60″, 51″ x 51″, 54″ x 54″**  (1219 mm x 1371 mm, 1067 mm x 1524 mm,
1295 mm x 1295 mm, 1371 mm x 1371 mm)
Speed:  30 ft/min (0.15 m/s)
Drive:  1:2 cable hydraulic, 5 hp submersed motor using aircraft cable, rope wedge sockets
Power supply:  208 volt, three phase, 30 amps, 60 Hz or 240 volt, single phase, 40 amps, 60 Hz
Warranty:  36 months parts, ask for details
ACCESS Elevator can repair or service your Garaventa Lift
What is a LULA Elevator?
Limited Use, Limited Application
25 feet (7.6 m) maximum travel*
18 square feet (1.67 m2) maximum car size
30 feet per minute maximum speed*
1400 lbs. (635 Kg) maximum load capacity
*Limits are determined by local codes. Check with your representative from ACCESS Elevator for more information regarding the use of LULA elevators in your area.
Features
Fully automatic controls
Two-speed horizontal sliding doors
Braille markings on all controls
Audio/visual car direction indicator
Full-height photo electric obstruction sensors
Automatic homing
Cost effective
Doors, Fixtures and Finishes
Your LULA Elevator will be a key feature of your building. Interior design and finish are important considerations. We offer a variety of attractive and durable wall and ceiling finishes as shown below.
Car Wall Laminate Panel Selection
Fire rated, tough and easy to clean. Offered in a choice of 8 colors.
Entrance Doors and Car Doors
Like a commercial elevator, the LULA Elevator is equipped with two-speed horizontal sliding entrance and car doors. The car doors are finished to match your car wall trim and are equipped with full height photo-electric door sensors. The hall doors are primed and ready to be painted to match your building decor. All doors can also be supplied in brushed stainless steel.
Custom Car Finishes
LULA Elevator car interiors can be customized to whatever unique design best suits your building project. Our custom shop offers a wide variety of wall, ceiling and fixture finishes. We can also build elegant stainless steel and glass cars.
Car Wall Trim Colors
Custom colors and stainless steel finish trims are available as an option.

Ceilings and L.E.D. Lighting
All LULA's are equipped with four recessed low-voltage L.E.D. lamps that illuminate automatically when the doors open. Ceiling choices are white, stainless steel or custom. White lamps are fitted into white ceilings, black into stainless ceilings. Chrome lamps are optional.

Handrails
LULA Elevator cars are equipped with one or more handrails, for extra passenger security.