Stair Lift
Stair lifts come in a variety of models, and can be installed snug against the wall along staircases. Bruno stairlifts are made in Oconomowoc, Wisconsin and Access Elevator has been installing Bruno stairlifts for 30 years to customers throughout the Midwest.
Interior Home Elevator
Home modification for disabled accessibility barrier solution: The Telecab Thru-the-floor home elevator by Savaria installed in a home and out-of-view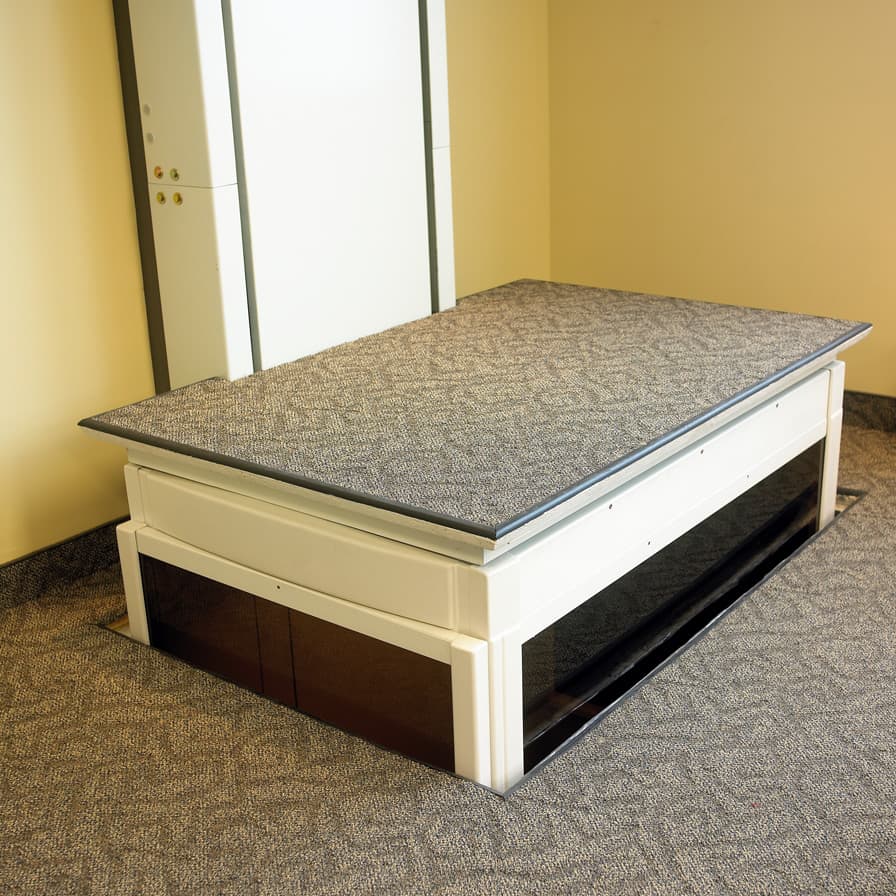 Interior home elevators are becoming more affordable and widely adopted. There are various models and some, like the through-the-floor elevator in the picture above, don't require a major home modification or construction. The beauty of this type of elevator, is that it hides out-of-view.
3. Accessibility Barriers: Bathrooms
There is typically not much room in most bathrooms, so navigating within such a confined space can be challenging, especially for someone in a wheelchair or any other medical device on wheels. For those that require the assistance of a professional caregiver or family member, the space becomes even tighter when two people have to wiggle around it to make ends meet.
Roll-in Shower
Home modification for disabled accessibility barrier solution: Roll-in shower for people in a wheelchair
A roll-in shower has a floor that is flush with the remaining floor of a bathroom. There no lip or raising to step over. This allows easy entry for anyone in a wheelchair. This is a more expensive home modification that is typically one part of a grander bathroom remodel. The silver grab bars shown, however, are way more affordable and can be a viable alternative. These provide gripping points to prevent slips and falls.
Walk-in Tub
Home modification for disabled accessibility barrier solution: A walk-in tub in a home for those that are mobility challenged
The benefits of a walk-in tub are two-fold. 1) They allow for easy entry/exit for people that may have troubles stepping over the height for a traditional bath tub and 2) provide a therapeutic escape thanks to the built-in jets. Luxury meets safety, here.
4. Accessibility Barriers: Transfers
A transfer is the act of physically transferring from a bed to a wheelchair chair, getting on/off the toilet, in and out of a shower or tub, and moving from room-to-room, or between levels in a home.
SureHands Ceiling Lift and Body Support
A SureHands ceiling lift can help caregivers or family members with transfers, and sometimes, they grant the user complete freedom and independence since it comes with a remote control.
The lift glides along specialized tracks attached to the ceiling. These tracks can connect a bed in a bedroom to the toilet and bathing are of a bathroom. The tracks pivot to allow changes in direction as well.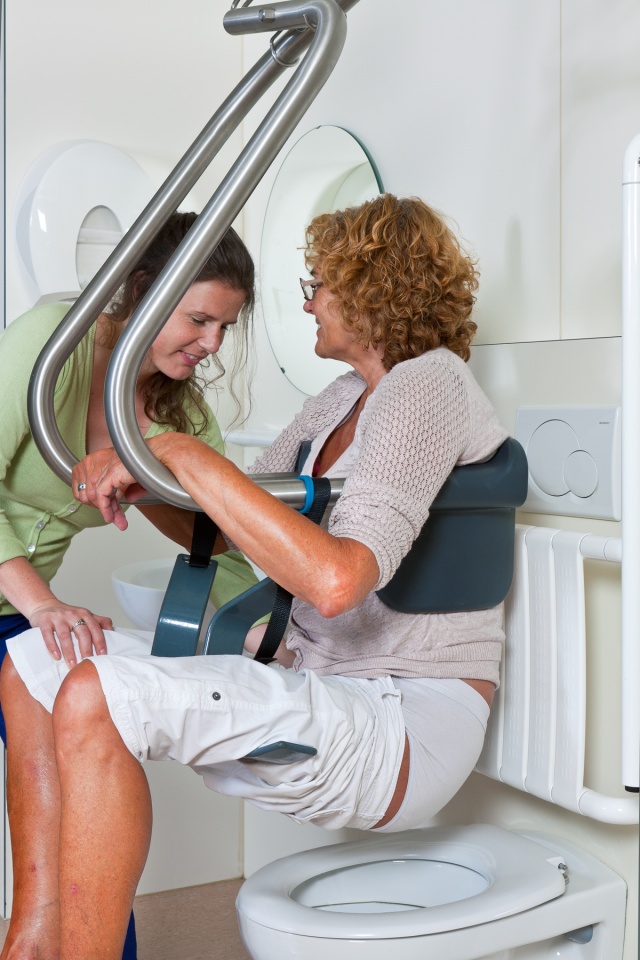 Probably the most impactful feature of a SureHands ceiling lift is its Body Support system. Just how the arms of a caregiver can hoist up a patient, this system also hugs a user during a lift. The leg supports provide extra comfort. This is a great alternative for those that need to be lifted in a more erect position, contrary to the slouch and discomfort of a traditional sling.
In the end, home modifications work for people differently. It comes down individual needs and of course cost. These solutions should at least provide a solid foundation of understanding to help seniors, the handicap and disabled, and anyone limited with mobility, to overcome barriers of a home.
Access Elevator can help seniors and people with disabilities stay in their homes by installing ramps, ceiling lifts, stair lifts, and other products to increase mobility and eliminate barriers. Call Access today at 844-945-4387 to schedule a FREE assessment of your home. Serving Southern Wisconsin and Northern Illinois. Appleton | Madison | Milwaukee | Waukesha | Wausau | Chicago | Chicagoland | Gurnee | Schaumburg | Wheaton | Joliet.