Perhaps there is one important lesson to come out of the past few years, and that is, mobility issues are a big challenge in Naperville, DeKalb, Peoria, Barrington, Chicago, Chicagoland, and surrounding areas. This is especially acute in the home where we spent more time, whether it was just living or working. Home elevators are increasingly becoming the go-to option when it comes to aging in place and making the home fully accessible to everyone. At Access Elevator we have been helping homeowners for many years add the best mobility equipment to their lives, and home elevators are another option to make life easier. Contact our team today to learn more.
Multiple Floors Make Home Elevators Shine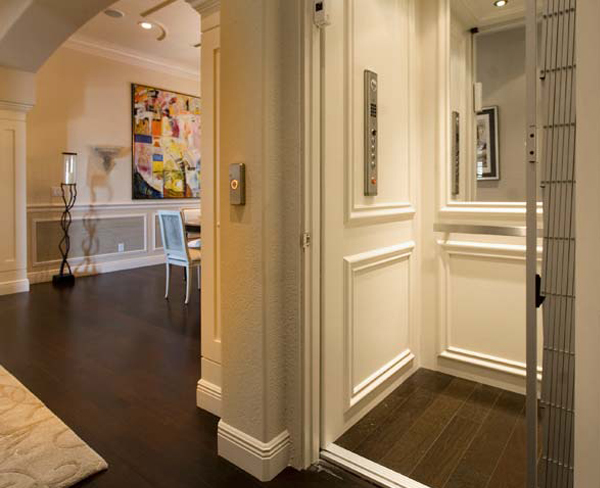 It might be one thing if you only had two floors to deal with, but in some cases, homes have three floors: the main and upper floor, as well as a basement level. Some may have a third, upper floor. Navigating these stairs once or twice can be a challenge, but things dramatically increase as you add more trips up and down those stairs, and especially when you have multiple floors to access.
Home elevators can provide multiple level stops and makes transporting items between floors a breeze. Because home elevators operate very similarly to commercial elevators, the operation is very easy to understand and use. And the home elevator can be used by anyone, which is a nice advantage for anyone living in the home or visiting.
Home elevators not only increase the quality of life for the homeowners, but they also enhance the safety in the home. Stairs are no longer an obstacle or a fall hazard, and those in wheelchairs can readily use the home elevator. They also increase the value of the home, which can be appreciated if the home ever needs to be sold.
Side Benefits of a Home Elevator
Say your bedroom is on the upper floor of the home, which is often the case. You need to get a new mattress up to the second floor, or some new furniture for the room. Carting these items up the stairs can be dangerous and even when things go right it is possible for someone to injure themselves lifting items up far enough to reach the next step. With a home elevator, these items can be lifted to the upper floor and then easily moved into the room they are needed in.
Follow the lead of the many customers in Naperville, DeKalb, Peoria, Barrington, Chicago, Chicagoland, and the surrounding areas who have enlisted the expertise of Access Elevator to add a home elevator. Contact our team today to get started on adding this important mobility device to your home.