You may be someone that doesn't need a wheelchair all the time, so having a full-sized wheelchair isn't something that you need. Instead, having a foldable wheelchair is an ideal situation in Kenosha, Green Bay, Milwaukee, Appleton, Neenah, and the surrounding areas. When you want the latest in foldable wheelchairs, look no further than our team at Access Elevator and the models of WHILL wheelchairs. These impressive power chairs provide not only electric power when desired but can fold up for easy storage as well as for travel. Contact us today to learn more.
Why Choose a Foldable Wheelchair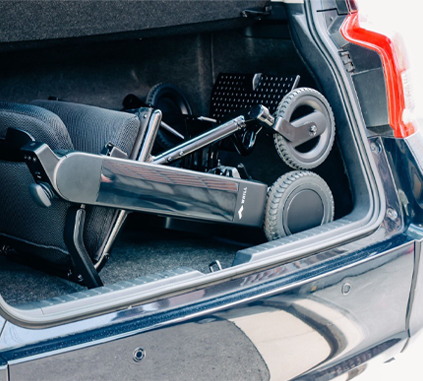 Of course, the easy answer is that a foldable wheelchair allows you to fold it up and store it in a smaller space when it isn't in use. Often you will see these foldable wheelchairs in hospitals and other areas where they want to offer them but also need the space to store them. However, in the case of a residential application, it does the same thing for those who only need a wheelchair from time to time.
However, there are some people who want to have their wheelchairs not only foldable but also powered wheelchairs. WHILL has your answer with the two different models of foldable power chairs that they offer. Both models fold up to make them easier to store, but it also makes them much easier to travel with, whether that's across town or across the country.
The WHILL wheelchairs are air travel certified so they can come on a plane with you. Plus, these powered wheelchairs also feature the ability to travel over 10 miles each before needing to be recharged. And, the lightest of the two models is less than 60 pounds, thanks to the latest battery technology and lightweight, yet strong, materials.
WHILL Foldable Wheelchairs
Having a wheelchair is a must for some people, but that doesn't mean that they need to sacrifice quality or style with their foldable wheelchair. No matter where you live in Kenosha, Green Bay, Milwaukee, Appleton, Neenah, and the surrounding areas, either of the two models of WHILL foldable wheelchairs will provide you with the right solution. When you are looking for a foldable wheelchair that will provide you the freedom and flexibility you desire, look no further than the WHILL wheelchair options. Contact us at Access Elevator today to learn more about these modern foldable wheelchairs