If you are going to have a stairlift installed in your Lake Geneva, DeKalb, Beloit, Hinsdale, Schaumburg, Roselle, or surrounding areas home, don't you want it to be the best available? When you opt for a Bruno stairlift from Access Elevator, you are getting a top-quality, American-made stairlift from a company that is veteran-founded. They offer stairlifts for both indoor as well as outdoor installations and can handle both straight and curved stairs. Bruno stairlifts are routinely rated as top-quality stairlifts and can dramatically change the quality of life for those who have them installed in their homes. Contact our team today to learn more about the different styles and options available for your Bruno stairlift.
Indoor Stairlifts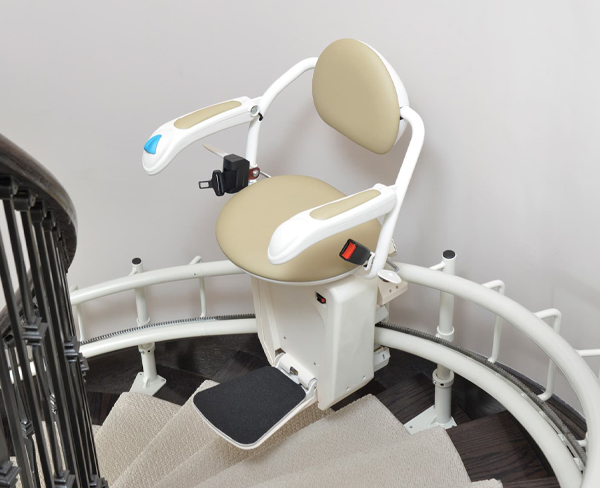 Adding an indoor stairlift is the most common installation that we see for Bruno stairlifts. Your indoor stairs are used multiple times per day, so it makes sense to add a stairlift where it will do the most good and get used. Bruno stairlifts come in a straight model as well as a curved model, so we can fit a Bruno stairlift to nearly any set of stairs that you may have in your home.
The different models of indoor stairlifts that Bruno offers have a range of additional options that may make sense for your unique needs. Features such as a folding bottom rail for a narrow hallway or door at the bottom of the stairs, a power swivel seat to allow for easier exiting and entering of the stairlift, plus many other options will make your Bruno stairlift even more helpful.
Outdoor Stairlifts
There are times when having a stairlift outdoors can make it more enjoyable to utilize all of your property. Our Bruno stairlifts meant for outdoor use are designed to take the abuse of different weather conditions. They are weather resistant, utilizing marine-grade vinyl for the seating, outdoor paint, and a cover for the more sensitive areas. These outdoor stairlifts are perfect for decks, patios, as well as pathways to the water.
No matter what application you would like a Bruno stairlift for at your Lake Geneva, DeKalb, Beloit, Hinsdale, Schaumburg, Roselle, or surrounding area home, our team at Access Elevator can help you determine the right model and what options you want to include with it. Contact our team today to get all the details about Bruno stairlifts.