Think about your Waukesha, Wausau, Sheboygan, Chicago, Madison, Roselle, or surrounding area home and everything that you do there. Just getting into your house could be problematic for someone in a wheelchair. Do you have any steps to negotiate to get to your front door? What sort of help would you need just to get inside? The power and simplicity of a wheelchair ramp are often underestimated, even discounted – until it is needed. It then becomes a transformative piece in your life and the lives of those in a wheelchair. And don't think that ramps are just for people in wheelchairs. Ramps don't have to be ugly either, as there are many designs and varieties to meet your needs and décor. Talk with the experts at Access Elevator to learn all about the different designs available in wheelchair ramps.
What Kind of Wheelchair Ramps Are Best?
There are a variety of wheelchair ramps that are available and figuring out the right one can be a challenge. Should you have an aluminum ramp? Wood? Steel? How long should the ramp be? Do you need any rest spots in your ramp, and if so, how many? What is your property layout like for a ramp, can you do a single run, or do you need it to snake? So many questions that Access Elevator can help you answer and show you the great options made possible by all the companies that they represent. Call Access Elevator today to get the process started and let us help you get back into your home.
Wheelchair Ramps Add Value to Your Home or Business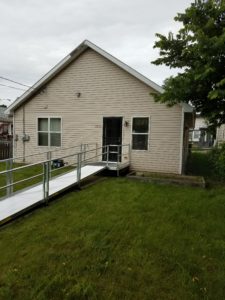 While many people think that having a wheelchair ramp detracts from the value of a home or business, the opposite is true. For example, a wheelchair ramp at your home makes it more attractive to a wider audience when it comes time to sell because the potential buyer doesn't have to worry about adding one themselves. And if they have a family member or friend who is in a wheelchair, that makes the home more inviting.
There are several benefits to adding a wheelchair ramp to your home or business. Improved mobility is an obvious benefit, as it allows easier access for everyone. There are several different materials that a wheelchair ramp can be made of, and this can make your wheelchair ramp nearly maintenance-free. Configuration of your wheelchair ramp is also very flexible, and Access Elevator can work with your Waukesha, Wausau, Sheboygan, Chicago, Madison, Roselle, or surrounding area home to develop a wheelchair ramp that works.