Wheelchair Ramps in Appleton
Are you finding that having a wheelchair ramp in your home, church, business, or another building has become a necessity? With Access Elevator's newest office in Appleton, they are prepared to help install the best wheelchair ramps no matter the situation. A wheelchair ramp creates safe and easy entries/exits that will assist you and your family with getting in and out of the house. A low-cost alternative to vertical platform lifts, ramps can be the perfect accessibility solution in residential, commercial, recreational, and industrial settings.
Wheelchair Ramps, Lifts, and Platform Lifts in Appleton, WI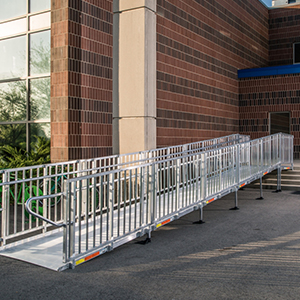 Representing the top three wheelchair ramp brands provides customers with a wide range of options and prices to fit all applications. And there are several benefits to adding a wheelchair ramp to your home or business. And while wheelchair ramps are a great solution, sometimes other alternatives are called for.
Access Elevator can also work with you to install platform lifts or other vertical lifts in your building. You may not have the physical space to install a wheelchair ramp, but a platform lift takes up much less space. These can also be used both indoors and outdoors. And people, other than those in wheelchairs, will appreciate the easier options as well. Either option will make your building much more inviting to people with disabilities and in wheelchairs.
Wheelchair Accessibility Solutions in Appleton, Wisconsin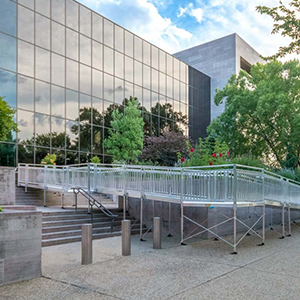 Accessibility is the name of the game, whether you want that for your own home, your church, your business, or another building. You want to deal with professionals who have years of experience in wheelchair accessibility as well as other solutions that will fit your building and your budget. Homeowners and businesses alike can benefit from having Access Elevator professionally install a wheelchair ramp. We will work with you to find the best solution that includes the size of your property, building size, and cost. No matter your needs, Access Elevator has a stair lift perfect for you. Contact us to find out more about which stair lift fits your needs.
Appleton was settled in 1847 and incorporated as a village in 1853. Samuel Appleton, Amos Lawrence's father-in-law from New England who never visited Wisconsin, donated $10,000 to the newly founded Lawrence College library, and the town took his name in appreciation. In August 1886, Appleton was the site for a national first, the operation of a commercially successful electric streetcar company. Appleton also had the first telephone in Wisconsin and the first incandescent light in any city outside of the East Coast.