Stairlifts in Chicagoland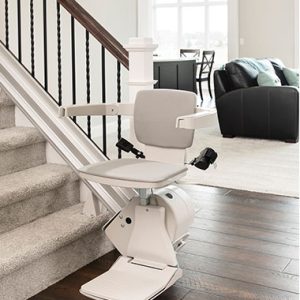 As people age, develop illnesses, or experience injuries, moving up and down stairs can be challenging, if not impossible. If you're wondering how to navigate your home with limited mobility, a chair lift or stairlift from Access Elevator Inc. is an excellent option.
As leading accessibility experts serving Wisconsin, Illinois, and Indiana, we provide a cost-effective solution to any residential and commercial accessibility issue. Our team has years of experience designing and installing stairlifts/chairlifts for numerous home layouts. Whether your stairs are curved or straight, we will find the appropriate setup for your needs.
Straight Stairlifts in Chicagoland
It can be tricky finding the right stairlift, but Access Elevator is here to help. We offer straight stairlifts for homes with staircases that go up and down without any curves or turns. Our team will take precise measurements of the stairs to ensure there is enough landing space at the top and bottom.
Access Elevator works with top accessibility vendors like Bruno and Handicare, who offer stylish, discreet designs. Residents and guests without mobility issues can continue using the stairs despite the presence of a chair lift. A straight Chicago stairlift may take a few days to design and receive, and our team will professionally install it in several hours.
Our vendors also have heavy-duty chair lifts available to provide home access to everyone. Designs include the Savaria Stairfriend stairlift, with a weight capacity of 350 pounds, and the Bruno Elite Stair Lift SRE 2010, with a weight capacity of 400 pounds. We can accommodate weights up to 600 pounds on request.
Curved Stairlifts in Chicagoland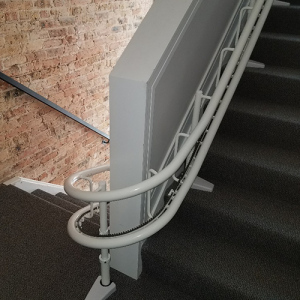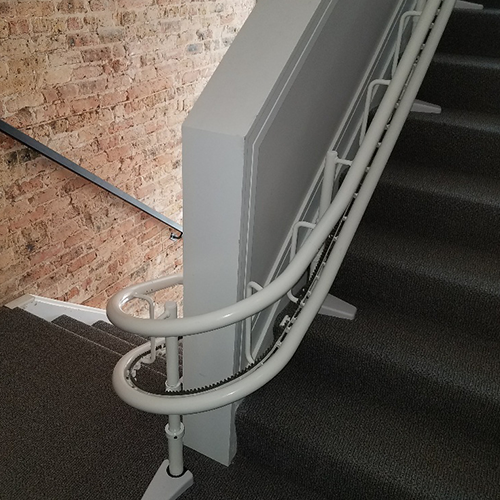 If the stairs in your home have a half landing, a bend, or a curve, a curved stairlift is the best choice. Because we craft the rails for chair lifts based on measurements and the staircase's design, it may take a little longer to receive the chair and rail for your custom lift, but we will install it perfectly in a few days.
No matter if your stairs are straight or spiral, we have a solution for you. We even offer outdoor chairlifts to help you enter and exit your home with ease. You can safely navigate your residence with little to no assistance, thanks to safety features like obstruction sensors.
Chicago, Illinois, is located on the southwestern shore of Lake Michigan, the fifth largest body of fresh water in the world. As a thriving multicultural city with plenty of diverse neighborhoods, extensive parklands, sports attractions, and ethnic restaurant districts, Chicago garners almost 86 million tourists each year.
Please call our Access Elevator team today at (630) 423-5030 to learn more about our stairlift/chairlift options and schedule a free, no-obligation estimate.