Platform Lifts, Ceiling Lifts, Wheelchair Ramps, Home Elevators, and More in Schaumburg, IL
Access Elevator has been proudly serving Bruno products such as residential elevators, platform lifts, stair lifts, ceiling lifts, dumbwaiters, and wheelchair ramps to the Schaumburg, Illinois community since 1990.
We are a proud Bruno certified dealer because we have tried every other brand on the market, but Bruno has proven themselves to be the best out there. We offer lifetime warranties on all of our Bruno products because we believe in them. These high-quality lifts and elevators help us maintain our reputation as the best in the Schaumburg area.
Schaumburg is a village in Illinois located in Cook County. It is a northwestern suburb of Chicago and is a part of the Golden Corridor, which is an area around the Jane Addams Memorial Tollway in the Chicago metropolitan area. It is home to the Woodfield Mall, which is the 11th largest mall in the United States and has over 300 stores. Bordering areas include Rolling Meadows, Elk Grove Village, Hanover Park, and Streamwood.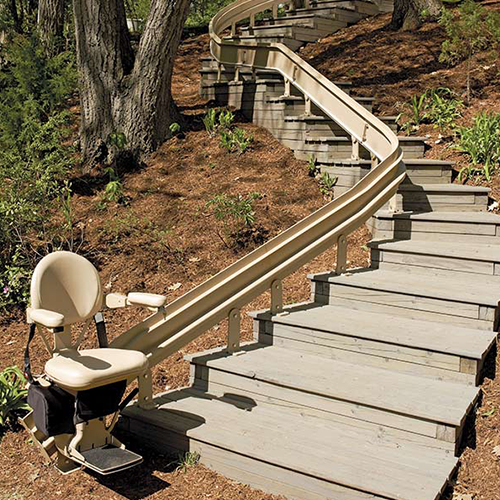 Schaumburg is an area that Access Elevator has been providing products for over 25 years. We want to help everyone in the area that has problems getting around their home due to a disability. Mobility is something that everyone should have, especially at home. This is why we only supply the highest quality of lifts, elevators, dumbwaiters, and ramps. Bruno products are unrivalled in quality, and we want you to see it for yourself. We have a showroom that you can go visit and take a look at our products. There, you can speak to one of our representatives to ask any questions you may have.
If you cannot get out to our location but wish to get some help, you can also call our office with any questions you have. Our team is knowledgeable and friendly so they can help you find the product best suited for your needs. If you call us, you can also schedule a free in-home consultation and price estimate with us. At our consultations, we send someone to you to look at your home and see what the installation would look like. This helps us decide what product is best for you and your needs and allows us to be ready for your installation. We want to help you the best way we can!
Our certified technicians are the best in the industry. They handle all installations, repairs, and maintenance necessary so that you don't have to. We make sure your elevator, lift, or ramp is safe to use. Your safety is important to us! Repairs and maintenance are important to keep your high-quality Bruno elevator or lift running for as long as possible, so do not hesitate to call us to schedule an appointment. We have over 100 years of combined experience in our technicians so you can trust us.
Schaumburg is a place that we love to serve. If you are a resident in the area and need some extra help, contact us today. Our platform lifts, residential elevators, stair lifts, porch lifts, and wheelchair ramps will make your life easier.
Contact Us Today To Discuss Your Free Mobility Assessment