Best Stair Chairs and Home Elevators in Oconomowoc, Wisconsin
Access Elevator sells and services Stair Chairs in and around Oconomowoc Wisconsin. We specialize in all brands of Stairlifts such as Bruno, Stannah, Harmar, Sterling, Handicare, Acorn Stairlifts and more. Regardless of what brand you have or would like to have professionally installed in you most important asset, your home. The Stairchair pros at Access elevator can help.
Oconomowoc a great place to visit, live, work and play and is one of the Safest Cities in Wisconsin
A recently released report that highlighted the safest cities in Wisconsin and Oconomowoc was ranked as one of the safest. Using licensed data, each city's crime index was rated against the state and national average crime index. And, Oconomowoc has a crime index that makes it the #28 safest city in Wisconsin. Everyone wants to know that they live in a safe place. It provides a sense of comfort and security. Oconomowoc is one of the safest towns in the entire state of Wisconsin.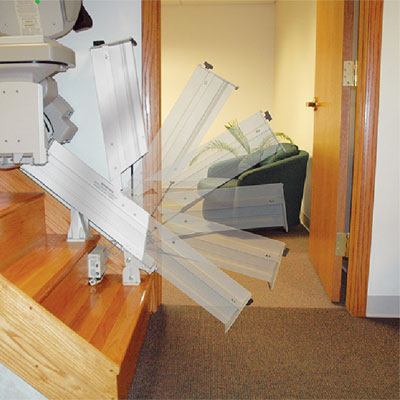 Access Elevator is the Stairlift Specialists Company in Oconomowoc
If you or someone in your family has mobility challenges at home, we can help. Whether you have a need for a Straight Stair Chair, Curved Stairlift or an Outdoor Stair climber we have them all ready for you to install quickly and safely.
Lots to do in Oconomowoc Wisconsin
From a quiet weekend retreat for two, to the glamour and excitement of a national convention for 1,000, Oconomowoc has the facilities to meet your needs. But the charm of this unique part of Wisconsin only starts there. Nestled in the heart of lake country, Oconomowoc has natural beauty that shines all year round. The list of outdoor activities is restrained only by time and energy. The cluster of unique shopping experiences which Oconomowoc has is truly world class. Sights, sounds, and aromas from around the world will delight your senses. The thorough enjoyment of browsing our downtown is perfectly complimented by the quality and variety of eating experiences available. A stroll along the tree-lined streets of Oconomowoc seems like a trip back to the turn of the century. Many old, restored mansions and houses of a time past grace the city and add to that special quality of life that Oconomowoc enjoys.
Best Mobility Products in Oconomowoc
If you have Mobility challenges let us help you with a New Wheelchair van from our Access Mobility caravan company check out our website at: www.accessmyride.com we can help get you to any of Oconomowoc's favorite attractions safely and easily. We offer Wheelchair vans and Wheelchairs trucks as well. Come and test drive one today. We will remove barriers and advance your independence, it's our specialty!
Best Wheelchair Ramps in Oconomowoc Wisconsin
Need a wheelchair ramp at home? We can help! Access Elevator offers professional sales and installation of Wheelchair ramps in Oconomowoc and all surrounding areas. Give us a call today for a FREE no obligation estimate.
Contact Us Today To Discuss Your Free Mobility Assessment