Best Stair Chairs and Elevators in New Berlin, WI
Access Elevator sells and services Stair Chairs in and around New Berlin Wisconsin. We specialize in all brands of Stairlifts such as Bruno, Stannah, Harmar, Sterling, Handicare, Acorn Stairlifts and more. Regardless of what brand you have or would like to have professionally installed in your most important asset, your home. The Stairchair pros at Access elevator can help.
New Berlin a great place to visit, live, work and play in Wisconsin
New Berlin has 26 parks totalling approximately 855 acres much of which 372 acres are developed parks. 107 acres are preserved as a conservancy. 187 acres comprise the New Berlin Hills Golf Course. 199 acres are in various stages of development. Facilities include playing fields at Malone Park, near New Berlin's City Hall, and a disc golf course at Valley View Park, in the southeastern part of the city.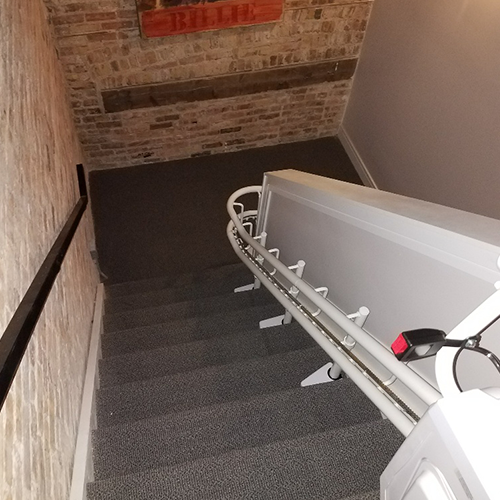 Access Elevator is the Stairlift Specialists Company in New Berlin
If you or someone in your family has mobility challenges at home, we can help. Whether you have a need for a Straight Stair Chair, Curved Stairlift or an Outdoor Stair climber we have them all ready for you to install quickly and safely.
A Great History in New Berlin Wisconsin
The first settlers, Sidney Evans and P.G. Harrington, arrived in the northeastern part of what is now the New Berlin in 1836. The area first came under local government in 1838 as part of the Town of Muskego, which at the time was composed of New Berlin and Muskego. The area that is now the city of New Berlin was separated from the Town of Muskego in 1839 and named the Town of Mentor. On January 13, 1840, the Town of Mentor became the Town of New Berlin. It was named by Sidney Evans for his hometown, New Berlin, New York. The town remained a rural and agricultural area until the 1940s, when the westward migration to the suburbs from Milwaukee began. Between 1850 and 1950, New Berlin's population went from 1,293 to 5,334. Ten years later, in 1960, the population had nearly tripled to 15,788. The Town of New Berlin became the City of New Berlin with its incorporation in 1959.
Large-scale growth to New Berlin occurred in the 1960s and 1970s, mainly because of the construction of the New Berlin Industrial Park, which began in 1964. The park is composed of three separate business parks encompassing 1,126 acres the business parks include the Moorland Road Industrial Park, the New Berlin Industrial Park and the MSI/Lincoln Avenue Industrial Park.
Access Elevator Offers the Best Mobility Products in New Berlin
If you have Mobility challenges let us help you with a New Wheelchair van from our Access Mobility caravan company. Please check out our website at: www.accessmyride.com we can help get you to any of New Berlin's favorite attractions safely and easily. We offer Wheelchair vans and Wheelchairs trucks as well. Come and test drive one today. We will remove barriers and advance your independence, it's our specialty!
Best Wheelchair Ramps in New Berlin Wisconsin
Need a wheelchair ramp at home? We can help! Access Elevator offers professional sales and installation of Wheelchair ramps in New Berlin and all surrounding areas. Give us a call today for a FREE no obligation estimate.
Contact Us Today To Discuss Your Free Mobility Assessment