Residential Elevators, Chair Lifts, Porch Lifts, Dumbwaiters, Ramps, and More in Naperville, IL
Access Elevators has been proudly serving the Naperville community since 1990 by dealing in Bruno products such as wheelchair lifts, stair lifts, porch lifts, home elevators, ramps, dumbwaiters, and more. We also handle the installing, maintaining, and repairing of these products as part of our service.
The city of Naperville can be found in the DuPage and Will counties. It is located in Illinois and is a suburb of Chicago. Money magazine has voted it as the second-best place to live, and Kiplinger has voted it as the best place for retirement in the past. It has also received rankings for being one of the safest cities, as well as one of the wealthiest cities. It is home to the Naperville Historic District, which has 613 buildings in the eastern section of Naperville. Naperville is home to the Nichols Library in downtown Naperville on Jefferson Street, as well as the Naper Boulevard and 95th Street Libraries.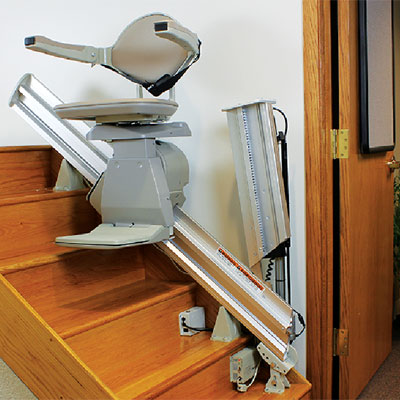 Naperville is a city we have the pleasure of servicing. When it comes to residential elevators, lifts, and ramps, we are the best in the area. We understand the difficulties of having a disability and not being able to be mobile in your own home, and that is why we care so much about our customers. Our lifts and home elevators help make your life easier by allowing you to bypass the difficulties that come with a disability.
We have tried all the brands on the market, but we decided that Bruno has the highest quality lifts and elevators. That is why we only deal in Bruno products, and why we chose to become a Bruno certified dealer. We proudly offer lifetime warranties on these products, something you cannot get from Bruno, but from us here at Access Elevator.
If you want to see the quality of our products for yourself, you can come visit our showroom where we proudly put them up for display. You can get some help from our staff while you are here as well, so do not be afraid to ask questions to learn more. If you cannot make it out to our showroom but want to learn more, give us a call. We can answer any questions you may have over the phone. You can also schedule a free consultation with us, and get a free price estimate.
When we install your residential elevator, platform lift, or wheelchair ramp, we will send one of our experienced and certified technicians out to you. With over 100 years of experience on our team, we have the best people in the industry to do the job for you. Since they will handle the whole process of gathering the appropriate permits, as well as the installation itself, and the future maintenance and repairs, you do not have to worry about a thing. Naperville is a city we love to serve!
We are a team of experts that you can trust your safety and satisfaction on. If you are in the Naperville area or somewhere nearby and in need for a quality home elevator, wheelchair ramp or lift, contact us today!
Contact Us Today To Discuss Your Free Mobility Assessment