Home Elevators, Wheelchair Ramps, Stairlifts, and more in Joliet, Illinois
Since 1990, Access Elevator has been a leading distributor in Joliet, Illinois by providing high quality stairlifts, residential elevators, dumbwaiters, wheelchair ramps, ceiling lifts, porch lifts, and more.
Joliet, Illinois is a city that is in both the Kendall and Will counties. It is the fourth largest city in Illinois and can be found to the southwest of Chicago. The Joliet Historical Museum and Route 66 Visitors Center are two local landmarks in the area. The Joliet Prison, which has been featured in movies and television shows, can also be found here. The Louis Joliet Mall is a local shopping mall. The Rialto Square Theatre can be found on Chicago Street. There are also two casinos in the area: the Hollywood Casino and a Harrah's hotel/casino. The Joliet Area Historical Museum, which is all about the history of Joliet.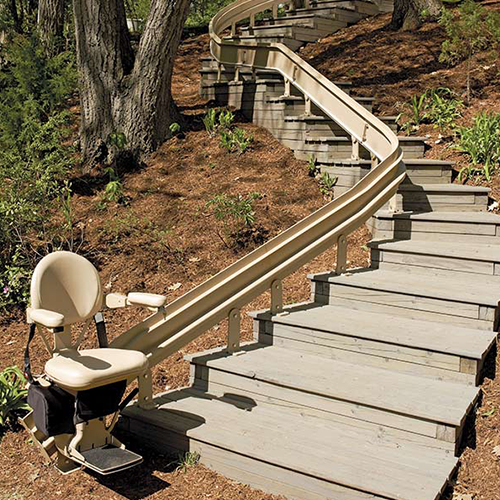 With the need for high quality accessibility products, Access Elevator meets that need by providing stairlifts, wheelchair lifts, ramps, dumbwaiters, porch lifts, automatic door lifts, and more products by trustworthy brands that are long-lasting and work well. For example, our stairlifts are Bruno brand stairlifts. After many years of trying different products, we have found that Bruno is the best stairlift manufacturer in the industry. We love their products so much that we partnered with Bruno and became certified Bruno dealers, and deal exclusively in their stairlifts. We want to ensure that our customers have a selection of stairlifts and other accessibility products that they can trust.
For these products, we understand that you may need them indefinitely, or you may only need them for a few weeks or months. This is why most of our products are available as both rentals and full purchases. Our technicians can install and uninstall our products without a trace, so do not worry about your temporary setback ruining the beautiful finishes on your home.
We have technicians that are specially trained and certified to handle your accessibility needs. We do installations, repairs, and maintenance for all of the products we offer so that you don't have to. Our technicians ensure that you have products that work smoothly, keep you safe, and make you independent and happy! If you were to attempt to install these products on your own, not only would you risk injury during the installation, but you cannot guarantee a safely installed product on your own. Allow one of our professionals to do the job correctly the first time so that you can sit back and relax while your safety is ensured with us!
Here at Access Elevator, we are proud to serve the Joliet community with our high quality lifts, ramps, elevators, and dumbwaiters. These products help make lives easier and make our customers happy. We aim to please our customers in any way we possibly can. If you are in the Joliet, Illinois area and in need of a high quality accessibility lift, residential elevator, automatic door opener, dumbwaiter, or wheelchair ramp, give us a call today. We are the best in the area, so give us a chance to prove it to you!
Contact Us Today To Discuss Your Free Mobility Assessment