Best Stair Chairs, Ramps, and Wheelchair Lifts in Janesville, Wisconsin
Access Elevator sells and services Stair Chairs in and around Janesville Wisconsin. We specialize in all brands of Stairlifts such as Bruno, Stannah, Harmar, Sterling, Handicare, Acorn Stairlifts and more. Regardless of what brand you have or would like to have professionally installed in you most important asset, your home. The Stairchair pros at Access elevator can help.
Janesville a great place to visit, live, work and play
In a 2000 satisfaction survey of Janesville residents sponsored by the City of Janesville, 93 percent of residents rated the quality of life in Janesville as good to very good. When asked what they most liked about living here, residents said that Janesville was clean, beautiful and had great parks. They also described Janesville as friendly, peaceful and safe. We feel you will enjoy visiting Janesville too, or living in Janesville if you are a new resident or one of our many visitors.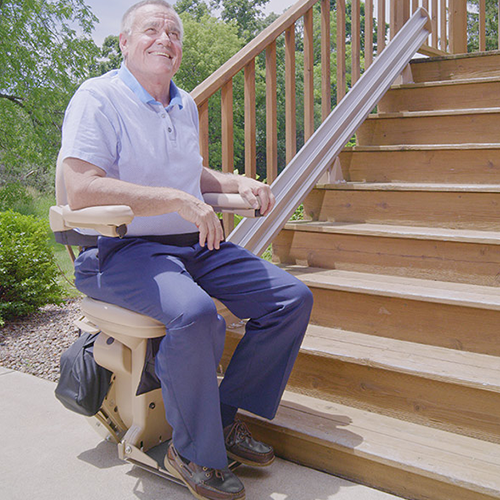 Access Elevator is the Stairlift Specialists Company in Janesville
If you or someone in your family has mobility challenges at home, we can help. Whether you have a need for a Straight Stair Chair, Curved Stairlift or an Outdoor Stair climber we have them all ready for you to install quickly and safely.
Lots to do in Janesville Wisconsin
With more than 2,500 acres of parks and open spaces, Janesville is known as Wisconsin's Park Place. Janesville's many parks, trails, recreation facilities and location along the Rock River offer year-round recreation activities that include boating, swimming, golfing, water and cross-county skiing. Tours and attractions include the Rotary International Botanical Gardens and the Lincoln-Tallman Restorations. Janesville is located in Rock County, and its city limits include about 27.94 square miles or 17,888 acres of land.
Best Mobility Products in Janesville
If you have Mobility challenges let us help you with a New Wheelchair van from our Access Mobility caravan company check out our website at: www.accessmyride.com we can help get you to any of Janesville's favorite attractions safely and easily. We offer Wheelchair vans and Wheelchairs trucks as well. Come and test drive one today. We will remove barriers and advance your independence, it's our specialty!
Best Wheelchair Ramps in Janesville Wisconsin
Need a wheelchair ramp at home? We can help! Access Elevator offers professional sales and installation of Wheelchair ramps in Beloit and all surrounding areas. Give us a call today for a FREE no obligation estimate.
Contact Us Today To Discuss Your Free Mobility Assessment