Best Stair Chairs in Franklin Wisconsin
Access Elevator sells and services Stair Chairs in and around Franklin Wisconsin. We specialize in all brands of Stairlifts such as Bruno, Stannah, Harmar, Sterling, Handicare, Acorn Stairlifts and more. Regardless of what brand you have or would like to have professionally installed in you most important asset, your home. The Stairchair pros at Access elevator can help.
Franklin a great place to visit, live, work and play in Wisconsin
The City of Franklin is a growing suburban community of 35,655 in the Chicago-Milwaukee I-94 corridor. Our community prides itself on being an exceptional place to live, do business, and raise a family. The City of Franklin offers outstanding schools, a variety of indoor and outdoor recreational activities, and community celebrations that showcase the rich traditions of the City.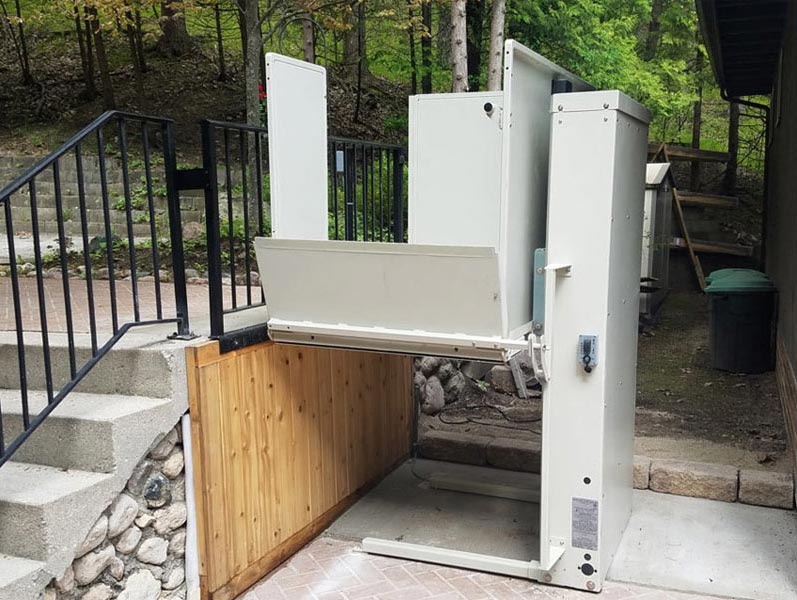 Access Elevator is the Stairlift Specialists Company in Franklin
If you or someone in your family has mobility challenges at home, we can help. Whether you have a need for a Straight Stair Chair, Curved Stairlift or an Outdoor Stair climber we have them all ready for you to install quickly and safely.
A Great History in Franklin Wisconsin
Franklin, named for Benjamin Franklin, was one of two towns formed out of the original Town of Kinnikinic by the Wisconsin Territorial Legislature in 1839. Franklin was bounded by Greenfield to the north, Oak Creek to the east, and Racine and Waukesha Counties to the south and west. It was reported that the quality of much of its land was excellent, while other portions were rough with many boulders. Originally, Franklin was covered with heavy timber, mostly hardwoods such as walnut, butternut, and hickory. There was an abundance of wild animals, including, bears, panthers, wolves, wildcats, deer, and wild turkeys. The Root River furnished nearly the entire drainage for the Town. Life was primitive. A full-dress suit for the area and time was described as buckskins over a flax shirt and moccasins.
Franklin's early town officials were spunky individuals who fought against annexation to the City of Milwaukee. They even disappeared for several weeks until the City charter arrived from Madison in 1956. After the intention to incorporate from a town to a city in 1956 was made known, town officials hid so the summons server couldn't find them and block the attempt. Franklin, a part of the Northwest Territory, was organized into a township in 1841. The name "Franklin" was given in honor of Benjamin Franklin in 1839.
Access Elevator Offers the Best Mobility Products in Franklin
If you have Mobility challenges let us help you with a New Wheelchair van from our Access Mobility caravan company. Please check out our website at: www.accessmyride.com we can help get you to any of Franklin's favorite attractions safely and easily. We offer Wheelchair vans and Wheelchairs trucks as well. Come and test drive one today. We will remove barriers and advance your independence, it's our specialty!
Best Wheelchair Ramps in Franklin Wisconsin
Need a wheelchair ramp at home? We can help! Access Elevator offers professional sales and installation of Wheelchair ramps in Franklin and all surrounding areas. Give us a call today for a FREE no obligation estimate.
Contact Us Today To Discuss Your Free Mobility Assessment