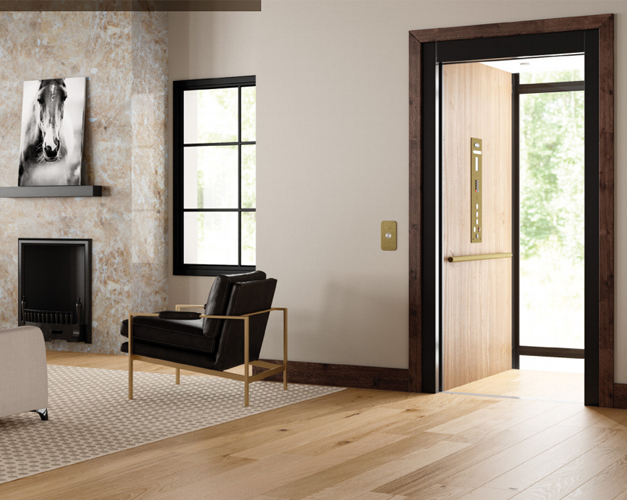 Savaria Eclipse Home Elevator
The Eclipse residential elevator is a smooth riding elevator that doesn't require a separate machine room so it takes less space in the home and usually takes less time to install than hydraulic elevators. Construction requirements for the Eclipse are simpler than some other home elevators, making it easier to install into an existing home.
The Home Elevator team at ACCESS Elevator can also show you the many ways to make your Eclipse home elevator the perfect complement to your home with a variety of finishes and fixtures to suit virtually any décor. For superior convenience and a modern appearance, add Savaria automatic slim doors.
Video Review
Product Features
Machine roomless:  Less space required for the installation. Usually less installation time required.
Compact chain drive system: Requires only 8′ ceilings. No ceiling shaftway construction is required.
Hide-away gate: Innovative gate system tucks away for maximum entryway and interior space.
Easy-access service panel: Service panel can be located inside or outside the hoistway making it accessible for maintenance.
Other standard features: Fully automatic operation, modular rail construction for easy construction, automatic cab on/off interior lighting, digital display in car operating panel, white ceiling with 4 halogen pot lights, melamine interior in choice of colors.
Standard finishes: Flat melamine or unfinished MDF (see color chart), stainless steel, clear or bronze anodized aluminum cab operating panel and hall call stations, plywood floor, white ceiling.
Safety features: Battery operated (UPS) emergency lowering and lighting, hand-crank manual lowering, motorized braking, lockable control panel, elevator door interlocks, emergency stop switch, in-use indicator lights on hall station, slack chain brake system.
Warranty: 36 months parts. Please see complete details here. 
Technical Specifications
Applications:  Residential, indoors
Standard Capacity: 750 lb (340 kg), 950 lb (431kg), 1000 lb (453 kg)
Maximum Travel Distance: 50′ (15.24 m), 60′ (18.29 m) where code permits with up to 6 stops and 2 openings
Nominal Speed: 40 ft/min (0.20 m/s)
Motor: 2 hp with geared roller chain variable frequency drive
Minimum Pit: 8″ (203 mm) recommended, but as shallow as 6″ (152 mm) is possible; 10″ (254 mm) required for HD model
Minimum Overhead Clearance: 96″ (2438 mm)
Power Supply: 230 volts, single phase, 60 Hz, 20 amps, 30 amp fused disconnect box with 20 amp fuse
Documents and Resources
Drawings
Eclipse Elevator Drawings
The following documents are PDFs and DWG files that can be downloaded and are intended for architectural use.