It could be due to aging or an injury that you are recovering from, but regardless of the cause, your stairs are a daunting task that you must face, often multiple times a day. And the fact that your stairs are curved only adds to the possibility that you could misstep or otherwise have an accident right in your Galena, Naperville, Glenview, Hinsdale, Springfield, Kankakee, or surrounding area home. Before that happens, place a call to our experienced team at Access Elevator, who have helped hundreds of homeowners install a custom curved stairlift on their stairs. From gently curved stairs to a winding staircase, we've added a curved stairlift on nearly every stairway you can imagine. Don't keep putting your health and safety at risk; contact us today to learn how you can remain safely in your own home with a curved stairlift.
Curved Stair Lifts Are Crafted for Each Application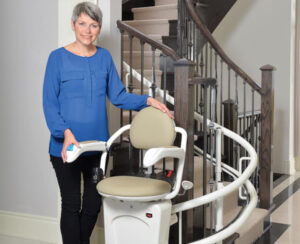 Because no two homes are the same, it holds that no two staircases are the same either. This necessitates that any curved stairlift that is installed in your home will be a custom installation. The curves will need to be done right so that the chair and rider will not touch any walls or get hung up in any way. If there are any straight paths, those will need to be custom lengths as well. And as homes age, walls that were once straight now might be slightly out of square. You may also have a landing midway down your staircase that needs to be handled properly.
The goal is to provide for a safe ride both up and down the stairs in the stairlift without the need to get off until the rider is at the top or bottom of the stairs. With custom installations of curved stair lifts, you will benefit from having corners made tight, landings that are correctly done, and the whole stair lift correctly fit for your home stairs.
Any Staircase Can Be Fitted with a Curved Stairlift
Stairs come in a variety of shapes and sizes. Some stairs are wide, while others can be narrow. Often stairs are made of wood, especially inside a home, but if you add a curved stairlift outdoors, it might be metal, concrete, or another material. We have added curved stairlifts where you might not think they could be added. Do what hundreds of other people have done in Galena, Naperville, Glenview, Hinsdale, Springfield, Kankakee, and the surrounding areas, and make the call to Access Elevator. We will provide you with all the details for your curved stairlift and answer your questions.