Many people have straight stairways in their Peoria, Bloomington, Chicagoland, Glenview, Sheboygan, Hinsdale, and surrounding area homes, but what do those who have stairways that aren't straight supposed to do? Curved stairlifts from Access Elevator are the answer! Two of the top stairlift brands, Bruno and Savaria, both offer curved stair lifts for homes that have landings, switchbacks or you need any other special application. Give them a call and they will be happy to provide a free, no-obligation estimate.
Curved Stairlifts Are Crafted for Each Application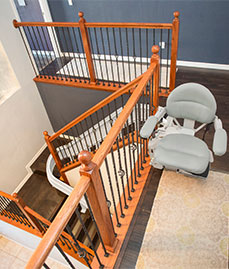 No two homes are exactly alike, and that extends to the stairs in homes as well. Having a curved stairlift provides for the utmost safety for the user because there is no need to switch between multiple straight stairlifts, nor will you be left stranded with a couple of stairs left to navigate without a stairlift. With these custom installed curved stair lifts in your home, you can be sure that the stairs will no longer pose a problem. These curved stairlifts can even be installed on spiral staircases! With custom installations of curved stairlifts, you will benefit from having corners being made tight, landings that are done properly, and the whole stairlift being properly fit for your home stairs.
Tube of Flat Rail Stairlifts
When you are looking at the different curved stairlifts available for your home, you will notice that there are two different rail options: hollow tube or flat rail. Each of them has their own advantages and disadvantages, so you will need to speak with your technician from Access Elevator to make an informed decision on which way to go. Compared with the flat rail option, the hollow tube rail tends to have a smoother and slightly faster ride. Hollow tube rails can also carry up to 275 pounds which is sufficient for nearly all types of applications.
Flat rail stairlifts can be readily installed if no custom rail needs are present. This means that you could have your stairlift installed right away and begin to enjoy the enhanced safety and security that a stairlift provides. The modular design of flat rail stair lifts means that they will run slightly slower than a tube rail stairlift due to the seams. Whether you choose the tube or flat rail design, any custom needs will take a few weeks to get properly made. When you are ready to pursue having a curved stairlift added to your Peoria, Bloomington, Chicagoland, Glenview, Sheboygan, Hinsdale, and surrounding area home, give a call to Access Elevator.