You've researched about stairlifts and realize that getting one installed in your Milwaukee or Appleton home would be a smart investment. You also have seen a lot of stairlifts that are on straight stairways, however, your stairway is curved, and you know that a straight stair lift won't work on your stairs. This is where a curved stairlift from Access Elevator and their team can make mobility a reality in your home. Both Bruno and Savaria offer curved stairlifts, each with its own pros and cons, and Access Elevator can install either of them in your home.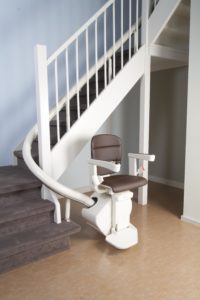 Hollow Tube Rail Stair Lifts
For curved stairways, there are really two options when it comes to the guide rail that the stairlift would ride: hollow tube or flat rail. Hollow tube does not sound like it would be able to carry much weight, but it can. Hollow tube rail can carry up to 275 pounds, which is quite a lot and is sufficient for a wide number of installations. Because of the hollow tube design, these types of stairlifts are typically less expensive than the flat rail equivalent, and this also helps to make them a popular choice. Hollow tube stairlifts also tend to have a smooth and fast ride when compared to modular flat rails. It is important to note that the gears on some hollow tube stairlifts are at least partially exposed, so it's important to make sure that things do not hang too low from the seat. A custom hollow tube rail system for your stairlift will typically take between two and four weeks to be fabricated by the manufacturer before it is ready for installation.
Flat Rail Stair Lifts
Flat rail stairlifts are the other option when it comes to curved stairways. There are actually two styles of flat rails that you have as options in this category: modular or custom. If you opt for the modular option for your curved stairlift, this option can carry slightly less than the hollow tube option discussed above. This is because the modules are typically made of aluminum and not steel, so they don't have as much carrying capacity. However, the nice thing about the modular option is that you don't need to wait for the manufacturer to make your guide rail, as the technician can start right away with fitting the modular system to your stairs. Using a modular flat rail also means that the stairlift will run slower than the hollow tube option because there are several more seams that the stairlift will encounter. If you opt for the custom flat rail system, it will take between two and four weeks for it to be fabricated for your Milwaukee or Appleton home. No matter what option you go with, the experienced team at Access Elevator is ready to help make your home a safer place.