Stairlifts, Home Elevators, Wheelchair Lifts, Wheelchair Ramps, and more in Aurora, Illinois
For over 25 years, Access Elevator has been the leading provider in accessibility equipment such as stairlifts, wheelchair lifts, residential elevators, wheelchair ramps, dumbwaiters, bathroom modifications, and more in the Aurora, Illinois area.
You can find Aurora, Illinois in the Kane and DuPage counties. It is a suburb of Chicago and is located in the outer region of Greater Chicago. It is the second most populous city in the state. You can find many things to do in this city, such as going to the Hollywood Casino Aurora, which is located in the downtown Aurora area. You can go to the historic downtown area, home of the Paramount Theatre and the Leland Tower, which is located on the Fox River. You can also find Stolp Island here in the Fox River, which is known as the Stolp Island Historic District in the National Register of Historic Places. Other things to do include going to the Aurora Regional Fire Museum, the Aurora Historical Society, and the Phillips Park Zoo. As you can see, there are many activities you can do in the city of Aurora.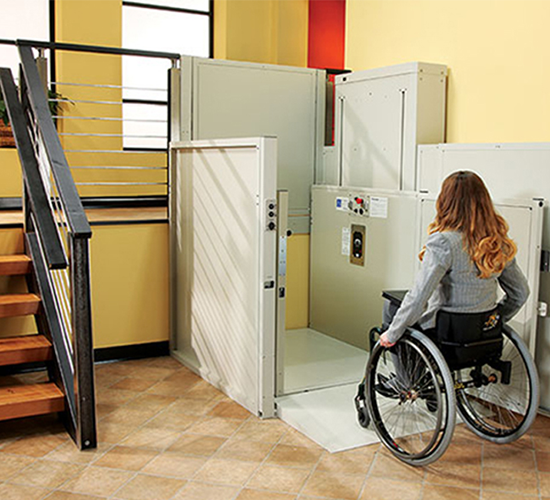 Stair Lifts in Aurora, IL
Here at Access Elevator, we have been serving the Aurora community since 1990. We have been able to stay in business so long because we have been serving products our customers trust, hiring and training workers to be knowledgeable and friendly, and by providing a great experience all around to those who choose us for their accessibility needs. We deal in only the highest quality stairlifts, wheelchair lifts, dumbwaiters, home elevators, porch lifts,and more so that our customers are able to be independent and mobile. The products we sell, such as our Bruno stairlifts, are products that we specially choose because they are so reliable and work very well for their purpose. They are made from great materials, and are made to last for a very long time with the right maintenance and care.
Our technicians can handle any of that maintenance, repair, and installation for you. We hire and train only the greatest individuals in the industry. Since 1990, we have been working to solve every accessibility situation by taking the care to learn about our customers' needs. Our technicians can handle any installation or repair of any lift, elevator, ramp, or dumbwaiter that you may have. Access Elevator is all you need!
We guarantee your satisfaction because we take all the care that we need to ensure your satisfaction. You do not have to lift a finger to do anything except give us a call. We will deal you the accessibility product you need, install it for you, and then we can handle the repairs so that your product can last as long as possible. We offer both rental and purchasing options so that you can have your product for many years to come. Access Elevator is the place for Aurora's accessibility needs! If you are in the area and ready to make the first step into being more independent with the help of one of our great products, give us a call today! We would be happy to serve you.
Contact Us Today To Discuss Your Free Mobility Assessment