Using a standard wheelchair, whether manual or electric, does great indoors and on hard surfaces outdoors. But what if you want to go out on a nature trail, or just roll across the grass in your local park in Green Bay, Appleton, Milwaukee, Kenosha, Neenah, or the surrounding areas? Your standard wheelchair just won't cut it. But, having an all-terrain wheelchair can change what you are able to do. At Access Elevator we now have tracked models of all-terrain wheelchairs that will allow you to get outdoors and tackle the elements. Contact us today to learn more.
They Are More Than Tracked Wheelchairs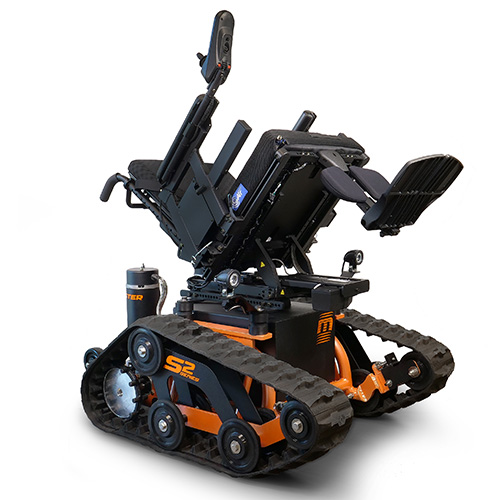 The TrackMaster wheelchairs that we have are more than just a tracked wheelchair. They represent a new level of freedom that just can't be matched by regular wheelchairs. Instead of just hearing about adventures in the outdoors, users of these all-terrain wheelchairs can be participants. From going through a park, to taking on a nature trail, to even fishing and hunting, these tracked wheelchairs can open up endless possibilities.
When you are in a wheelchair, even temporarily, your world becomes a lot different. Many things that you once took for granted are now either a challenge or are just out of the question. Your opportunities shrink and your world becomes a lot smaller. The all-terrain wheelchairs from TrackMaster make your world bigger again, and this can have a tremendous impact on the mental well-being of the users.
But you don't have to just use these all-terrain wheelchairs outdoors. They can also be used indoors as well. Both models will fit through a 32-inch doorway like other wheelchairs and they will not leave marks on hard floors or tear up carpeting or rugs. And these tracked wheelchairs have a low center of gravity so you will not worry about tipping over.
Live Better with an All-Terrain Wheelchair
The S2 model from TrackMaster can take you up to 10 miles in distance before needing to be recharged, with a speed of five miles per hour, all depending on the terrain you are on. These tracked wheelchairs feature marine-grade wiring so it can take the outdoor elements without failing. They can also go through water up to 12 inches deep without any problems, which makes going through puddles and other wet conditions a non-issue.
Living in and around Green Bay, Appleton, Milwaukee, Kenosha, Neenah, and the surrounding areas means that having an all-terrain wheelchair is practically a necessity because of all of the great activities that you can participate in. Contact our team at Access Elevator today to learn more about the models from TrackMaster.