Stair Lifts in Chicago, IL
Anywhere you live in the greater Chicago area, you can have a stair lift installed by local professionals. Access Elevator represents and installs the best in stair lifts from Bruno, Savaria and Handicare. We offer straight style stair lifts, custom curved style stair lifts and outdoor style stair lifts all over the Chicago area. Whether due to aging, accident or illness trying to navigate even one or two steps when you're losing your mobility is often difficult; trying to climb an entire set of stairs can be next to impossible.
We will take all of the measurements needed and make arrangements to get your new straight stair lift, custom curved stair lift or outdoor stair lift safely installed and operating in your home here in Chicago to make living at home easier with a new stair lift from Access Elevator.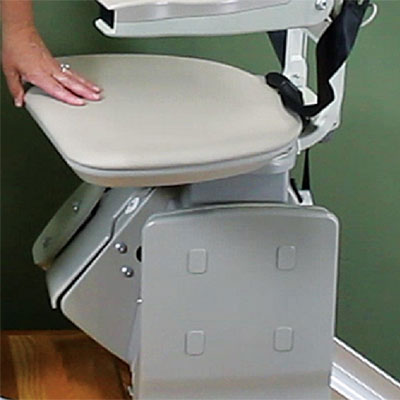 ACCESS Elevator is Chicago's Premier Stair Lift Company
When it comes time to look for a stair lift for your needs, more people turn to Access Elevator in Chicago. Because we represent the top three brands of stair lifts, our customers have a wide array of choices and prices to fill their stair lift needs. From the moment our Chicago stair lift professionals arrive in your home you will see the difference. We are always friendly, courteous and able to answer all of the questions you naturally will have when considering a new stair lift in Chicago.
Stair Lifts Chicago Residents Trust
Access Elevator only offers the best stair lifts Chicago residents deserve. The stair lifts offer a variety of safety features, including obstruction sensors, swivel seating at the top of the stair case, foldable designs that fold up against the wall so the stairs can still be used, popular interior aesthetics and more. No matter your needs, Access Elevator has a stair lift perfect for you.
Chicago started in 1833, when the Town of Chicago was organized with a population of about 200. Today it boasts a population over more than 2.7 million inhabitants. Chicago has a number of fascinating facts that you may not know about. It is the start of the historic Route 66 that has been immortalized in song and book. Every St. Patrick's Day (except in 2020) the Chicago river is dyed green. In 1930 the famous Twinkie was invented in Chicago, and along the shore of Lake Michigan Chicago boast 26 miles of public beaches.
Contact Us Today To Discuss Your Free Mobility Assessment