Stair Lifts, Ceiling Lifts, Home Elevators, Wheelchair Lifts, Ramps, and More in Roselle, Illinois
Since our start in 1990, Access Elevator has been supplying, installing, and servicing high quality home elevators, ceiling lifts, stair lifts, porch lifts, dumbwaiters, and wheelchair ramps to the people of Roselle, Illinois.
Roselle is a village northeastern Illinois in the DuPage and Cook counties. Most of the residents commute to the city of Chicago for work, since it is a part of the Chicago metropolitan area. Nearby cities include Schaumburg and Bloomingdale, which have bicycle trails that link them together. Roselle is home to some bike trails such as the North Central DuPage Regional Trail. The Lynfred Winery can also be found in this village, which produces over 120 types of wine.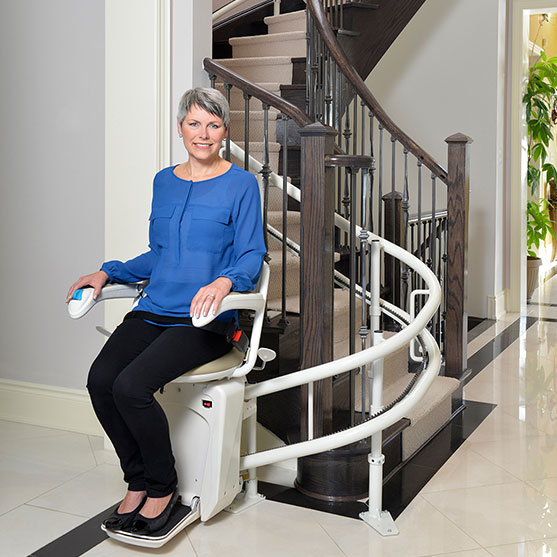 Bruno Stair Lifts, and Savaria Stair Lifts in Roselle, IL
We have tried all sorts of lifts and elevators over the years, but we have found that Bruno products are the best to show the quality of our service. We are a proud Bruno certified dealer because we believe in their products. We offer lifetime warranties on all Bruno items. The people of Roselle deserve the best, safest stair lifts, home elevators, ramps, and dumbwaiters, and that is why we exclusively deal Bruno products. If you wish to take a look at our top of the line products yourself, you can do so at our showroom, where we offer displays of all of the items we sell. Feel free to come by and take a look. If you have any questions, ask one of the representatives around the location, they would be happy to help you out.
If you cannot make it over to our showroom for help, you are more than welcome to give us a call. We offer the same friendly service over the phone. If you want to schedule a consultation with us, you can do so. We offer them for free, so you have nothing to lose! Our consultations allow us to best figure out what product suits your needs.
We are a certified dealer with a certified team of experienced technicians. With over 100 years of experience combined on our team, those who are in need of our lifts and elevators are going to get a service done right by Access Elevator. We acquire the necessary permits for the modifications to your home, and we also do all the installations and repairs, so you do not have to. This allows us to ensure the safest, most efficient installation to your home possible. You do not have to worry about a thing, because Access Elevators handles all the hard work!
We understand the difficulties that come with a disability. Mobility is important to us, and we believe that your home should be a place that is convenient to you. If you lack mobility in your own home, then you are lacking a big convenience that you deserve. For 25 years, Access Elevator has been providing porch lifts, chair lifts, residential elevators, dumbwaiters, and more to grant the people of Roselle that same convenience of mobility that we all deserve. If you are in Roselle, please give us a call. We want to help you today!
Contact Us Today To Discuss Your Free Mobility Assessment